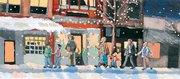 Holiday music events, gift ideas, activities for kids, food, decor & much more!
There was something different everywhere you looked Saturday, as Lawrence's art community came together for its annual Holiday Art Fair.
"We've got the most wide variety we've ever had. Across the board. It's a great spectrum of art," said local artist Patty Boyer, who coordinated the event at the Lawrence Arts Center, 940 N.H. Boyer said she has been the art fair's coordinator for the past decade.
Boyer, a ceramist who was selling renderings of aquatic creatures at her booth, said the fair gave local artists the opportunity to display their work to a large crowd.
"It gives us visibility," she said. "There are a lot of artists in town and a small amount of galleries. : It offers a great venue for artists because there are a million of us in town."
Boyer called this year's fair the best so far, and attributed that to the more than 70 artists - photographers, jewelers, painters, quilters and more - who set up shop for the annual fundraiser, benefiting the Lawrence Art Guild.
Mary Mitchell, a painter from Baldwin City, said there were fewer shoppers than she expected, but praised the array of artwork for sale.
"It's kind of interesting every year to see what's new," she said, as she sat in front of watercolors she painted, which were based off photographs she had taken. "It's a nice show because you have a lot of variety in things," such as paintings, jewelry and photography.
Her husband, Dale, who said he was there to help with heavy lifting, theorized that the smaller crowds were due to the rainy weather preceding Saturday's Old-Fashioned Christmas Parade.
But Kathie and Gregg Duguid, artists from Topeka who make intricate paper jewelry, said sales were swift and picked up after the parade ended at noon.
"This year, we've had a steady stream of people," Boyer said.
Lawrence resident Carole Scott was taking a break from the Festival of Nativity at United Methodist Church to peruse the works of artists who came from as far as Oklahoma and Nebraska.
She said she was looking for gifts, but couldn't decide what to buy.
"It's hard to make up my mind," she said, adding that some of the jewelry artists displayed caught her eye. "There's so much variety."
Boyer said that artists donated 10 percent of their earnings to the art guild; she hoped this year's takings would mirror past years, yielding between $6,000 and $10,000.
Copyright 2018 The Lawrence Journal-World. All rights reserved. This material may not be published, broadcast, rewritten or redistributed. We strive to uphold our values for every story published.