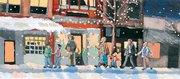 Holiday music events, gift ideas, activities for kids, food, decor & much more!
As a child, David Berkowitz heard plenty from his friends who celebrated Christmas.
They were jealous that Berkowitz received presents for eight days during Hanukkah, while they only got presents on one day.
Today, though, Hanukkah has a deeper meaning for Berkowitz, who is vice president of the Lawrence Jewish Community Center, 917 Highland Drive.
The holiday, which starts at sundown Tuesday and runs through sundown Dec. 12, celebrates the religious freedom of the Jewish people.
"I think today, as an adult, it does remind me of the fact that Jews over the centuries have been willing to fight and die to preserve their religious beliefs and their religious freedom," Berkowitz says. "And again, it reminds me how fortunate I am to have been born in 1941 in the United States of America where we neither had to fight nor die for these rights, rather than Europe, where I probably would not have survived."
Hanukkah, also known as the Festival of Lights, commemorates the rededication of the Temple of Jerusalem in 165 B.C., after the temple had been desecrated by the Syrian king Antiochus Epiphanes.
Zalman Tiechtel, rabbi at the Chabad Jewish Center, 1203 W. 19th St., says the message of Hanukkah "is one of hope in the face of extreme adversity. It's a message with broad appeal to everyone who believes in religious freedom and that faith and determination can triumph against even the most overwhelming odds."
That broad appeal is a reason the Chabad Jewish Center is organizing a communitywide Hanukkah celebration from 6 p.m. to 8 p.m. Dec. 9 at South Park. The event will include the lighting of a 6-foot-tall menorah, dancing and latkes.
The Chabad Center also is organizing a Hanukkah story hour and olive press workshop for children. That event is at 7 p.m. Thursday and 10:30 a.m. Friday, both at the Lawrence Public Library, 707 Vt.
Meanwhile, the LJCC has scheduled a family menorah lighting event at 7:30 Friday at the center. It will be followed by a 7:45 p.m. service.
Copyright 2018 The Lawrence Journal-World. All rights reserved. This material may not be published, broadcast, rewritten or redistributed. We strive to uphold our values for every story published.