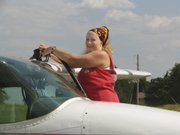 The disappearance of Lori Love's plane in the African desert may be rooted here in Lawrence.
A 1972 graduate of Kansas University, Love accumulated many of her initial flight hours here and started skydiving in the area, too.
"She and two or three other girls were into skydiving, and she went from that into flying," said her father, Loren Fred.
Love's plane disappeared Aug. 17 as she ferried a plane from Florida to South Africa. Controllers lost contact with her about an hour after she took off from Accra, Ghana. Her father said he hadn't heard much since she was reported missing.
"I don't really know what's going on. I haven't been informed of anything," he said. "I've come to expect that, though. I just don't think there's anything that anyone can do."
Love, who grew up in Wichita, graduated from KU with degrees in math and chemistry.
Longtime friend and McLouth resident Beverly Muzzy said Love lived to do things other people weren't doing at that time.
"She just couldn't wait to get out to the airport, and we're talking about the late '60s and early '70s," Muzzy said. "This was really unique for a young woman at that time."
The two women met when Love was in school here and both were living in a local boarding house. Muzzy said they lived across the hall from each other, and even though Love incessantly played "Bridge Over Troubled Waters," the two young women became fast friends.
"None of us that knew her then are surprised she's found herself in this predicament," Muzzy said.
Muzzy said Love lived her life without limits, always looking for the next challenge.
It's that spirit that has Muzzy convinced that Love could have survived whatever happened to her plane.
"She's like MacGyver; she can do, fix, create anything," Muzzy said. "I just know if there's a human being that could go down and even after a length of time be found, it would be Lori."
Muzzy said she hoped people in this part of the world realized how proud they should be of what Love has done.
"She was grounded here. She would come back here to visit. She never stopped. She never slowed down," Muzzy said. "There was this Amelia Earhart spirit in her to just go wherever the wind goes."
Copyright 2014 The Lawrence Journal-World. All rights reserved. This material may not be published, broadcast, rewritten or redistributed. We strive to uphold our values for every story published.