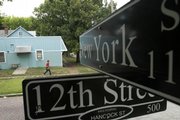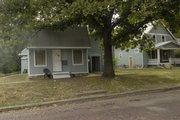 For the second time in a year, the city employee responsible for mediating landlord-tenant disputes is being prosecuted in Municipal Court for owning slumlord-quality rental properties.
City inspectors confirmed that they have turned over to Municipal Court a housing code violation case against Paul Winn, a specialist in the city's Human Relations Department. The case alleges that Winn allowed a rental unit he owns at 1200 N.Y. to fall into such disrepair that it no longer meets the city's minimum housing codes.
But now neighbors of the area are telling city leaders that the problems go far beyond the physical condition of the property. K.T. Walsh, a member of the East Lawrence Neighborhood Association, said that the property seems to be attracting criminal activity and known criminals.
"The neighbors in this area do not feel safe," Walsh said.
The property is known to have been the address for Louis G. Galloway, a Lawrence man who earlier this year was convicted of breaking into another apartment at 1200 N.Y. and beating the resident. It also was the residence of Michael Parker, a Lawrence man who was arrested in April on suspicion of making bomb threats against local schools.
Other neighbors, who asked not to be identified, said there has been a steady stream of cars and visitors to the house, and that the front yard is often full of intimidating people.
A spokesman with the Lawrence Police Department confirmed that between Jan. 1, 2006, and late August, the department has responded to calls for service at the location 36 times. That doesn't include the number of times that police officers go to the residence to follow up on previous calls or to respond to medical emergencies.
In addition to his city job, Winn also serves as a pastor for Lawrence's Praise Temple Church of God in Christ. Walsh said she was under the impression that Winn was trying to provide housing to people who needed a second chance, but she said its seems to have evolved into an "unsupervised attempt that has gone wrong."
"Neighbors have repeatedly called Rev. Winn to complain, and he no longer returns calls," Walsh said.
When reached by the Journal-World, Winn declined to comment on any of the allegations against him.
Other allegations
The allegations are not new. Winn last year was fined $600 by Municipal Court Judge Randy McGrath for similar violations at 1200 N.Y. and 1202 N.Y., which are in the same house.
"We have had cases on every unit in that house at some point," Brian Jimenez, the city's code enforcement manager, said of the four units that are at the two addresses.
The most recent alleged violations include water leaking through the ceilings of the apartment, no gas service at the apartment and "general dilapidation." The conditions are in violation of the city's housing code, but do not require the eviction of tenants because the violations do not create an immediate safety threat, Jimenez said.
Winn's rental issues extend beyond the 1200 and 1202 N.Y. properties. City prosecutors already have filed charges against Winn for a property he owns at 1300 N.Y. The charges are similar to those at 1200 N.Y., including rotted doors and windows and dilapidated flooring. Winn has pleaded not guilty, and the case is scheduled to go to trial in December.
Jimenez said some repair work had begun at 1300 N.Y., but the city planned to continue with the case because Winn was largely unresponsive to the city inspectors until a court date was set.
"He has not responded in a timely manner," Jimenez said. "He has not responded in a way viewed by staff as taking responsibility for these violations."
City's stance
Winn has been a city employee for 28 years and earns a salary of $56,058. In his position as a specialist for the Human Relations Department, he investigates complaints that people have been discriminated against. That includes complaints related to discrimination by landlords against tenants.
City Manager David Corliss said he was barred from publicly discussing personnel matters. But Corliss did make several statements indicating he was troubled by the latest allegations.
"I will say that I have an expectation, and I believe the city commissioners and the public have an expectation, that everyone who has a city position be above reproach and have the highest levels of ethics in their work," Corliss said.
Corliss declined to comment on whether Winn would be disciplined if found to be in violation of the city's housing codes, but he said prosecution of Winn would be handled "absolutely" like any other case. He also said the city is investigating whether Winn's properties qualify for prosecution under the city's disorderly house ordinance.
Corliss also said he was aware that the allegations against Winn could cause some residents to lose confidence in the integrity of the city's Human Relations Department. He said he would guard against that.
"It is very important that we educate the public about civil rights and enforce our ordinance," Corliss said. "It is important that mission not fail for ethical reasons."
The Human Relations Department already is in a time of transition. Longtime Director Rehelio Samuel retired in February and has not been replaced. Toni Wheeler, the city's director of legal services, has been serving as interim director of the department.
Corliss is conducting a review of the department's operations and is considering making it a division of the Legal Services Department rather than allowing it to be its own department.
Corliss said the review has determined that the department could benefit from additional supervision.
Copyright 2018 The Lawrence Journal-World. All rights reserved. This material may not be published, broadcast, rewritten or redistributed. We strive to uphold our values for every story published.