Photo Gallery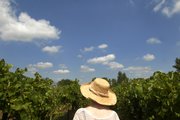 Grape escape
Some of the wineries in kansas
¢ Campbell Vineyard & Winery Inc., Holton (785) 872-3176
¢ Davenport Orchards & Winery, Eudora (785) 542-2278
¢ Dozier Vineyard & Winery, Ellinwood (620) 564-0195
¢ Heimhof Winery & Gifts, Leavenworth, (913) 351-3467
¢ Holy-Field Vineyard & Winery, Basehor (913) 724-9463
¢ Jefferson Hill Farm & Winery, McLouth (913) 796-6822
¢ Kugler's Vineyard & Winery, Lawrence 843-8516
¢ Middle Creek Winery Graue Vineyards, Louisburg (913) 377-4689
¢ Pome on the Range Orchards & Winery, Williamsburg (785) 746-5492
¢ Slough Creek Vineyard & Winery, Oskaloosa (785) 863-3439
¢ Smoky Hill Vineyards & Winery, Salina (785) 825-2515
¢ Somerset Ridge Vineyard & Winery, Paola (913) 491-0038
¢ Windswept Winery Storey Vineyard, Winfield (620) 782-3952
¢ Wyldewood Cellars Winery & Gift Shop, Mulvane, (316) 554-9463
Kansas growers are best known for producing wheat, corn and soy. They even maintain sprawling fruit orchards.
What slips the mind is that vineyards can be found in the Sunflower State, too. In fact, before Prohibition, Kansas was one of the leading states in growing grapes. Our history is long and fruitful when it comes to those small, savory morsels.
A timeline from the Kansas Department of Commerce shows that in 1901, more than 5,000 acres of Kansas vineyards still were producing grapes. But lawmakers made that a nearly impossible endeavor by creating state-imposed Prohibition. By 1933, even though Prohibition had ended, Kansas retained strict laws about alcohol sales, and vineyards fell into neglect.
Not until the late 1980s, when a farm winery law was passed, did wineries and grape growing make a comeback in the state. Today, there are more than 90 vineyards in Kansas, with grapes growing on approximately 200 acres. Kansas has 14 wineries, half of which opened in the last two years. Those wineries are producing more than 50,000 gallons of wine each year, totaling sales of more than $1 million, according to the Kansas Grape Growers and Winemakers Association.
This is the time when grapes in Kansas are plump, juicy and waiting to be harvested. For the next six weeks, grape growers throughout fertile fields will be hard at work plucking the fruits of their labor off the vines.
Kay and Tony Kugler began preparing their Lawrence vineyard in 1995, plowing land with a 1947 John Deere tractor. Both political refugees from the Czech Republic, the couple knew about grape-growing through Kugler family vineyards in the Moravia region.
"We have 10 acres, and we knew we wanted something there - we thought a vineyard might be nice," Tony says. "Plus, we like to be outside. Some people like to jog; this is our form of exercise."
The Kugler cellar is brimming with large, stainless-steel vats, grape crushers, corking and bottling equipment, oak barrels and cases of wines. One wall is adorned with ribbons and plaques of honors from state fairs and growing associations.
The vineyard boasts five different grape varieties: Cynthiana (or Norton), Vidal Blanc, Seyval Blanc, Concord and Niagara. The vineyard won a bronze metal for its 2004 Cynthiana at the National Norton Wine Competition in St. Louis, but the real rewards of growing grapes are less tangible.
"Walking through the vineyard early in the morning is absolutely beautiful," Kay says. "We love our wines, we are happy other people love our wines, and we are meeting some very interesting people in the process. The line between customers and friends is very blurry now."
Profit and pleasure
New to the grape-growing process are Baldwin couple Rick and Debby Hird, who just finished sowing in April.
"We underestimated the amount of pure physical labor involved in planting and installing a vineyard," Rick says. "Our vineyard is tiny by comparison, at about 800 vines on approximately 1 acre. But the work involved in planting vines, installing trellises and irrigation systems, pruning and spraying has been a challenge, particularly for only two people."
The couple have a few years before deciding whether they want to be vintners, and in that time they're trying to visit as many wineries as they can to sample products and talk with other growers.
"Spend a year or more planning and gathering information before jumping in. Know your soil and know what your neighbors are spraying on their crops, then enjoy all the helpful and friendly people in the business," Rick says.
The Hirds purchased cuttings from a vineyard in upstate New York, sowed them and patiently waited to see whether their efforts would create both a thriving business venture and personal aesthetic pleasure.
"Our neighbors planted a vineyard last year, and we have been watching their progress," Rick says. "For many years, we contemplated the right crop for our land, and grapes looked like a good choice. Plus, rows of grapes are just so beautiful."
Copyright 2018 The Lawrence Journal-World. All rights reserved. This material may not be published, broadcast, rewritten or redistributed. We strive to uphold our values for every story published.