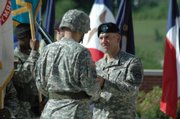 The new commander at Fort Leavenworth wants the Army and government agencies to become more adept at working together.
Lt. Gen. William B. Caldwell IV said Army officers need to be comfortable working with civilians, especially with those working at the federal level, such as at the U.S. State Department. The wars in Iraq and Afghanistan involve more than just military operations, he said.
"The U.S. government is in the lead," Caldwell said
On July 12 Caldwell took over as commanding general of the U.S. Army Combined Arms Center and Fort Leavenworth. He spent the previous year in Iraq where he served as military spokesman to the news media.
On Monday morning Caldwell and Command Sgt. Maj. David Bruner met with news media to discuss the focus of the fort's military teaching institutions. Caldwell said he wants to keep communication lines open to the media and perhaps hold regular sessions during which he or other commanders, soldiers and instructors could be made available.
Caldwell replaces Gen. David Petraeus, who is now commander of U.S. forces in Iraq.
Copyright 2018 The Lawrence Journal-World. All rights reserved. This material may not be published, broadcast, rewritten or redistributed. We strive to uphold our values for every story published.