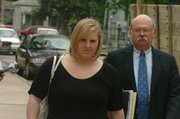 The former Lawrence High School teacher who admitted earlier this summer to having sex with a student was arrested Monday afternoon for violating a no-contact order issued by the court.
Meredith Kane, 24, was being booked at the Douglas County Jail Monday afternoon. Authorities could offer no additional information.
Kane pleaded guilty in July to one count of aggravated indecent liberties with a child. The acts occurred between August 2006 and March of this year with a student who was 15 at the time.
She was arrested in March. As part of her March release from jail on $15,000 bond, Kane was required to have no contact with any witness or the victim.
Kane's sentencing is scheduled for Oct. 12.
Copyright 2018 The Lawrence Journal-World. All rights reserved. This material may not be published, broadcast, rewritten or redistributed. We strive to uphold our values for every story published.