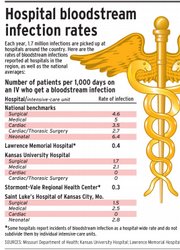 Each year in the United States, more people die from infections they picked up at hospitals than from car accidents or homicides.
It's a statistic the Consumers Union has used to try to pass legislation state by state that would make the rate of hospital-acquired infections public.
According to the Centers for Disease Control and Prevention, hospital-acquired infections account for 1.7 million infections each year and result in 99,000 deaths.
In contrast, the U.S. Department of Justice and FBI estimated 16,692 homicides in 2005, and the National Highway Traffic Safety Administration reported that 42,642 people died in motor vehicle accidents in 2006.
The issue resurfaced last week when news broke that Medicare was no longer going to cover the costs of treating hospital-acquired infections or surgical errors. Hospitals would have to find a way to pay for them on their own.
"I think it's one of these things people are looking at right now because you can get your arms around it," said Judy Bellome, chief executive officer of the Douglas County Visiting Nurses Association and Hospice. "It's easy to understand."
The Consumers Union, publisher of Consumer Reports, has been campaigning to make the infection rates public for years. Missouri and 19 other states have passed laws that require hospitals to release some of their infection rate data.
In Kansas, no such law exists. In the last legislative session, a bill was proposed by the Committee on Health and Human Services, but it made little progress.
Michael McCauley, with Consumers Union's Stop Hospital Infection campaign, said high infection rates point to deeper problems at the hospital, such as a lack of staffing.
"We felt by focusing our attention on infections, we'd get at other issues that would ultimately improve care," he said.
Regional data
Three area hospitals - Kansas University Hospital, Lawrence Memorial Hospital and Stormont-Vail Regional Health Center in Topeka - agreed to release the rate of bloodstream infections that are associated with IV use. The same information can be obtained for St. Luke's Hospital at the Missouri Department of Health and Senior Services' Web site at www.dhss.mo.gov.
The infection rates for different units throughout the hospitals were all below the national benchmarks set by the National Nosocomial Infections Surveillance System (see accompanying graphic).
KU Hospital and LMH also released data on the pneumonia infection rates for those using ventilators. Those, too, were below the national benchmark. KU Hospital also has a rate below the national average for urinary tract infections associated with catheters.
However, that was all the information the four hospitals would give out on infection rates. For the rest - such as infections around surgical sites - hospital officials said they didn't track the data or were concerned that it would be easy for readers to misinterpret.
St. Francis Health Center would not release the data. Overland Park Regional Medical Center did not respond to repeated requests for the data.
Hospital officials shy away from releasing the data - saying it can be hard to track where the infection originated, especially in cases where a patient transfers hospitals. Also, they say, some patients, such as those with severe burns or AIDS, are more at risk for developing infections. The hospitals who are the most vigilant could have the higher numbers, while other hospitals could under-report them, they say.
Dennis McCulloch, KU Hospital spokesman, said hospital infection rates should be just one factor patients use when comparing hospitals. The data should be weighed along with a hospital's mortality rates or the number of return visits, he said.
Prevention
Hospital officials agree about what can be done to reduce the spread of infections: handwashing and lots of it.
Standard practice is for health care workers - doctors, nurses, physical therapists - to wash hands in-between seeing patients. But Consumer Union's McCauley said national studies show that health care workers are washing their hands only 50 percent of the time.
"We've got hospitals where simple things like handwashing are not consistently followed," McCauley said. "There's a lot of room for improvement."
Nina Shik, KU Hospital infection control manager, said dispensers with alcohol-based soaps are outside all hospital rooms. Health care workers use them before entering. Hospital officials monitor employees to make sure they are complying.
"We tried everything: posters, lapel buttons, talking to people, sharing hand hygiene data," Shik said. "But we're teaching people to do something they already know. It's not an educational issue. Most of the time, we're reminding them."
Bellome said if patients or family members question whether health care workers have washed their hands, they should ask.
Other steps - such as clipping, but not shaving the hair around surgical sites - also reduce infections. Also, hospitals give patients antibiotics an hour before surgical incisions are made to ward off infections.
At Stormont-Vail Regional Health Center, the staff developed a specialized IV therapy team that was vigilant about patients' dressings and IV maintenance. The team helped get bloodstream infection rates down, hospital spokeswoman Nancy Burkhardt said.
KU Hospital has installed a new data system that will use patients' hospital records to alert staff of outbreaks.
Shik and others predict that hospital infection rates will re-emerge soon in the Legislature. Her only concern is if the state does start collecting rates, it should use data the public can easily understand with numbers that are comparable.
McCauley hopes more states pass public reporting laws.
"It's an opportunity to make more informed choices when you seek out care," McCauley said. "It'll shine a spotlight on the hospitals doing a good job and those that aren't."
Copyright 2017 The Lawrence Journal-World. All rights reserved. This material may not be published, broadcast, rewritten or redistributed. We strive to uphold our values for every story published.