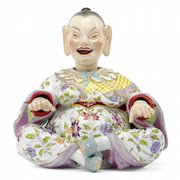 Current prices
Current prices are recorded from antiques shows, flea markets, sales and auctions throughout the United States. Prices vary in different locations because of local economic conditions.
¢ Pisgah Forest mug, cameo, guitar player, blue ground, raised mark, 1950s, 3 1/2 inches, $150.
¢ Donald Duck ring with Kellogg's Pep magnet, white plastic, Donald with box of Pep Cereal in beak, Living Toy, 1949, 2 inches, $165.
¢ Japanese kimono, bamboo-and-floral stitched design, orange ground shading to ivory, 1950s, 64 inches, $300.
¢ R.S. Prussia tea set, teapot, creamer, covered sugar, cup and saucer, roses on cream-colored ground, c. 1900, five pieces, $310.
¢ Woody Woodpecker alarm clock, "It's Fun Time! Fun in Nursery-Bedroom-Playroom-School," spring wind, Walter Lantz Productions, 1959, 3 1/2-by-5-by-5 1/2 inches, $505.
¢ Dirk Van Erp copper cigar box, hand-hammered, hinged lid, applied monogram, wood insert, 2 3/4-by-10-by-6 inches, $690.
¢ English Georgian chest-on-chest, mahogany, three dovetail drawers, oak linings, canted corners, bracket feet, 53-by-44-by-20 inches, $715.
The crossed-swords mark on the bottom of a vase. Small figurines of 18th-century people. Elaborate bowls. Onion-pattern dishes. These are all antiques that make collectors hope that they have a piece of very old Meissen porcelain. Sometimes it's wishful thinking, because all of these things were made by other factories as well, and the original famous Meissen factory made many other types of porcelains. Meissen is a town in Germany. A factory was built there in 1710. It made stoneware, porcelain and other ceramics. That factory, remodeled and rebuilt from time to time, is now called Staatliche Porzellan-Manufaktur and is still making porcelains in old and new styles. Dresden, Meissen and Saxe are all names for ceramics made in the area or even for pieces made in the style of the old German factory. But collectors often are uninformed about 20th-century Meissen. Since 1900, the original factory has made art nouveau dinnerware, realistic animal figures, art deco figurines, vases in modern designs and glazes, and, recently, abstract shapes and patterns. And it still makes many of the early traditional pieces. Look for the crossed-swords mark or other indications that a piece was made by the original Meissen factory even if the design is modern. Twentieth-century wares are bringing higher and higher prices.
Q: Our hutch has a label on the back that reads "Waring & Gillow." What can you tell us about the company?
A: Waring & Gillow was a British firm that made quality furniture. It was formed at the turn of the 20th century from the merger of Gillow, a furniture business established in Lancaster in 1730, and cabinetmaker S.J. Waring of Liverpool. The company outfitted luxury yachts and ocean liners, including the Queen Mary (1934) and Queen Elizabeth (1946). It made aircraft parts during both world wars. Business declined, and the Lancaster workshops closed in 1962. In the 1980s, the company merged with the cabinetmaking firm Maple & Co. to become Maple, Waring and Gillow. The Waring and Gillow brand of furniture is now owned by the Allders of Croydon department store near London.
Q: Please help me identify the maker of a porcelain vase that my husband's grandmother brought to this country when she emigrated from Europe. It's marked in blue with a semicircle enclosing an eagle. The words in the mark are "Victoria, Carlsbad, Austria." The hand-painted troubadour scene on the front is signed by an artist named Stahl.
A: The mark was used between 1891 and 1918 by the Victoria Porcelain Factory, operated by Schmidt & Co. in Altrohlau, Bohemia (now Stara Role, Czech Republic). Stahl was one of many artists who worked there while the factory was in business, from 1883 to 1945. The pottery made practical as well as decorative porcelain and earthenware. The word "Karlsbad" (sometimes spelled "Carlsbad") is in some of the factory's marks because the town of Karlsbad was the center of Bohemia's porcelain industry. The name of the famous town in any mark improved sales.
Q: Please tell me what my old wooden toy is worth. The toy is called "Torpedoes Away! Kentline Sea Battle." It includes a battleship and a submarine. There's also a torpedo, which you can put in the submarine. When you shoot the torpedo into the battleship, the upper part of the ship explodes into several separate pieces. I have the original box.
A: Your Kentline wooden toy dates from the 1940s. If you have all the parts and if the toy and its box are in excellent condition, you could get about $75 for it.
Q: My 17-inch umbrella vase is stamped "Burley Winter, Crooksville, Ohio" on the bottom. How old and valuable is it?
A: The Burley and Winter Pottery operated in Crooksville from 1872 until the mid-1930s. It first made everyday stoneware, then later made artware with colored glazes. The old Burley and Winter plant was purchased in 1986, and New Burley Winter Inc. then began making pottery using Burley and Winter's original molds. The new pieces are clearly marked "New Burley Winter." Your vase is vintage and worth about $400 to $700. Large, floor-standing pieces of pottery are very popular.
Q: I have two cast-iron garden chairs (once white, but now very rusty) with "Atlanta Stove Works" embossed on the underside.
A: The Atlanta Stove Works primarily made wood-burning stoves, but it also made patio furniture. The company was founded in 1889 and became part of Birmingham Stove and Range Co. in the 1930s. Our Web site, www.Kovels.com, lists a Renaissance Revival cast-iron garden set marked "Atlanta Stove Works" at $2,530.
Tip: Use two hooks a few inches in from the edges of a picture to hang it straight on the wall.
¢The Kovels answer as many questions as possible through the column. By sending a letter with a question, you give full permission for use in the column or any other Kovel forum. Names and addresses will not be published. We cannot guarantee the return of any photograph, but if a stamped envelope is included, we will try. The volume of mail makes personal answers or appraisals impossible. Write to Kovels, (Lawrence Journal-World), King Features Syndicate, 300 W. 57th St., 15th Floor, New York, NY 10019.
Copyright 2018 The Lawrence Journal-World. All rights reserved. This material may not be published, broadcast, rewritten or redistributed. We strive to uphold our values for every story published.