Dallas — An unemployed Boone Pickens was in need of a job when he cut a deal with former Oklahoma State basketball coach Henry Iba. While Iba set Pickens up with two interviews for high-school basketball coaching jobs, he wanted something in return.
"If I get a job for you, you've got to send me a player," Pickens recalls Iba telling him.
Although he never ended up becoming a coach, Pickens is still paying off on that 1951 deal more than five decades later. His donations, including a record-setting $165 million gift a year and a half ago, spurred on the renovation of Oklahoma State's football stadium and plans for an athletic village to overhaul the university's sports facilities and dazzle recruits.
"Mr. Iba, he would be very, very happy with my performance," Pickens said Friday in an interview with the Associated Press.
Since his mammoth donation was made public in January 2006, Oklahoma State has finished renovating the south stands at the stadium that bears Pickens' name and moved forward with a framework for a bowled grandstand around the west end zone. Plans have also been drawn up for new venues for baseball, softball, and other sports at the university.
"It's moved a lot faster than I ever imagined," Pickens said.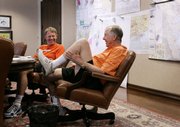 The university invested Pickens' donation with his Dallas-based BP Capital firm, where the Oklahoma State alumnus is attempting to grow the fund so it'll cover the cost of the entire village. Oklahoma State athletic director Mike Holder said the fund has ballooned to about $288 million, growing more than 25 percent last year. Costs for the village have also grown from their original $300 million price tag, with the west end zone project expected to cost $180 million instead of $120 million as originally designed. The stadium renovation is scheduled for completion in 2009.
"Doubters have to be fading away fast," Pickens said. "I think we've picked up a lot of support. I think that we've picked up support even from some of our opponents. Now that sounds strange, but I think they kind of like what we're doing.
"And I think there's no question if we're successful as we think we're going to be, it will influence programs at other schools."
So, what's the next step?
"Win," Pickens said. "That ought to be coming up I hope pretty quick, but at the same time I'm realistic from my viewpoint. ... Thinking you're going to have an undefeated season is not realistic. But you want to win, you want to be competitive and I'll leave it like that. If you're competitive, you'll win."
After following three straight bowl games with a 4-7 season in Mike Gundy's first year as head coach, the Cowboys bounced back last season to go 7-6 and beat Alabama in the Independence Bowl.
"There's no question that we're better. All you have to do is just look at our athletes and you can tell that," Holder said. "If you just go to practice or you're around the coaches and the athletes very much, you feel the enthusiasm. I sense that our players are a lot more confident, they feel like somebody cares about them and they're being coached about as well as anybody's being coached in college football and they expect to have success."
Copyright 2018 The Associated Press. All rights reserved. This material may not be published, broadcast, rewritten or redistributed. We strive to uphold our values for every story published.