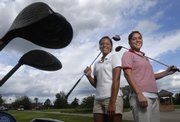 The girls golf teams at Free State and Lawrence High may play in the same city, but when it comes to experience and depth, the squads aren't in the same time zone.
More than half the girls on Lawrence's roster are seniors; Free State's two seniors are first-year players.
What's more, Free State's most experienced player, junior Kelly Morris, now only has four teammates after one player quit a week into the team's preseason.
That lack of depth, Firebirds coach Craig Hershiser said, could hurt his team, especially at tournaments that field six-player teams and drop the two worst scores.
"There's not much room for somebody to have a bad day," Hershiser said.
Mike Lewis' Lions team, however, has five seniors - Hilary Ferguson, Kalli McClure, Libby Queen, Erin Thimmesch and Kylie Waite - all of whom he expects to lead not only in practice, but in all other aspects of the team.
Hershiser said he expected Free State to be led by Morris, entering her third year on the team, and the team's other returning player, sophomore Grace Brahler, who qualified for state last year as a freshman.
"I've been pleased with Kelly and Grace both. You can tell that they're a year older and they've got that experience behind them," their coach said. "It's nice to have that kind of playing experience coming back."
Morris and Brahler will be joined on the links this year by newcomers Genny Salvatore and Catherine Smith, both seniors, and sophomore Mallory Cox.
The senior-laden Lawrence team has some underclassmen as well. Sophomores Cassie Allen, Mary Garzillo and Leslie Queen, Lewis said, will contribute. Lewis also said freshman Kathryn Lunte would be a nice addition and has been a "pleasant surprise" thus far.
Although there is a few years difference between the Lions' seniors and their newbie counterparts, Lewis said the whole team has shown a lot of camaraderie at practice.
"I think that makes coming to practice more enjoyable for everyone," Lewis said, "then that usually leads to some improvement throughout the year when it comes to their golf game."
Libby Queen said the seniors helped develop a healthy relationship with their younger teammates by helping them get acclimated on the golf course and hanging out with them away from it.
Free State's Morris said her teammates were still getting to know one another and expected they would grow more comfortable with each other as the season progresses.
"It's fun just helping the other girls," Morris said of mentoring her teammates, but also admitted she is not a perfect golfer.
The most talented Firebird, according to Morris, is Brahler because she is consistent in all aspects of play.
Libby Queen, in her third year playing for Lawrence High, said McClure is the most talented Lion and noted she is always even-tempered on the course.
McClure, Libby Queen and the other seniors hope to pick their teammates up this year with good scoring and support.
"You just need to make sure that when your teammates have bad days you encourage them to keep working hard," Queen said of how she plans to lead her eight fellow Lions.
The five Firebirds, Hershiser said, need to be patient this season.
"Our improvements at times could be significant and other times could be just incremental," Hershiser said. "If we understand that and don't let that get us down, over time, we'll be OK."
Copyright 2018 The Lawrence Journal-World. All rights reserved. This material may not be published, broadcast, rewritten or redistributed. We strive to uphold our values for every story published.