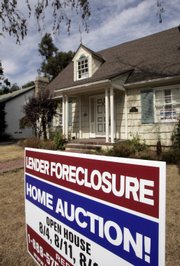 Mortgage defaults have soared in recent months, but many financially ailing borrowers can take steps to avoid losing their home to foreclosure.
Q: I purchased my home in 2005 with a small down payment, just a few months before prices in my area started to flatten out. Although the local market is still pretty soft, sales are increasing and prices seem to be slowly going up again. The problem is, I lost my job in May and already am having trouble making the monthly mortgage payments, but I would lose money if I sold the house today because I would have to pay a 5 percent or 6 percent sales commission of at least $10,000, and thousands more in other closing costs. What should I do?
A: First, don't panic. Call your lender immediately to explain your financial problems, and ask what type of help it might be willing to offer.
Your bank probably isn't anxious to begin the long and costly foreclosure process against you, especially because the fact that you don't have much equity in the home essentially would guarantee that the lender wouldn't be able to recoup all of the money you owe after its lawyers and foreclosure sales agent are paid.
Rather than foreclosing, the lender may be willing to reduce your monthly payments (or even temporarily suspend them) until you get a new job and your finances improve.
If the lender refuses to help and you start thinking instead about selling the house at a loss, it's important to first consider that the Internal Revenue Service doesn't allow homeowners to take a tax deduction if they sell their personal residence for less than they paid for it. In other words, even if the net sale proceeds won't cover the outstanding balance of the loan and the marketing costs, the IRS won't give you a tax break - and even may demand that you pay additional taxes on any amount that the bank "forgives" on the debt you owe.
Your letter suggests that home values in your area appear to be rebounding. So you also should consider renting the home to tenants for a year or two, especially if the rent you collect would cover your monthly payments for the mortgage and insurance. You then could sell when prices are higher, or simply move back into the house when you regain your financial footing.
I'm sorry to hear about your recent problems, and hope that your luck turns around soon.
Q: What is the "ECOA"?
A: It's the abbreviation for the federal Equal Credit Opportunity Act. The landmark law was approved in 1974 and prohibits creditors from discriminating against applicants based on sex, marital status, race, color, religion, age or the receipt of welfare payments and other public assistance.
Q: We recently hired a contractor to install a hot tub and deck in our backyard. After digging began, the contractor accidentally broke through a city-owned sewer line and caused almost $4,000 in damage. We didn't even know that the sewer line is there, so we checked the title-insurance policy that we obtained when we bought the home five years ago and found that the policy doesn't even mention it. Are we responsible for paying for the repairs? What should we do?
A: If the easement that allows the city to run a sewer line across your yard was properly recorded but the title insurer failed to discover and disclose it, your best option would be to file a claim against the title company to pay for the repairs and perhaps even relocate all of the piping.
You also might be able to file a claim against your contractor's insurance policy or bond, although the contractor and insurer alike almost certainly would argue that they aren't responsible for making the repairs because they had no way of knowing about the sewer pipe if the city's easement wasn't legally recorded or disclosed.
As a last-ditch resort, you could ask the company that provides your homeowners' insurance policy to pay for the repairs. But that's not a great alternative because you'd probably have to pay a hefty deductible and also might see your annual premiums rise sharply after the claim is filed.
Copyright 2018 The Lawrence Journal-World. All rights reserved. This material may not be published, broadcast, rewritten or redistributed. We strive to uphold our values for every story published.