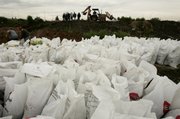 Poza Rica, Mexico — It drove terror deep into Mexico, smashing ashore as the third most powerful Atlantic hurricane ever to hit land.
But the furious beast proved relatively toothless, thanks to large-scale preparations - and a lot of luck.
Hurricane Dean did kill at least eight people in Mexico. It also destroyed sugar cane, corn crops and mango orchards and demolished a major cruise ship port. Insured losses were estimated to be less than $300 million.
Still, things could have been far worse.
The fast-moving hurricane first punched the Yucatan peninsula as a Category 5 storm, and many feared catastrophe for one of Mexico's poorest regions. It later spun through the heart of Mexico's offshore oil industry in the Gulf of Mexico and slammed into the mainland coast.
But luckily, Dean missed all major cities, tearing through areas of tiny villages, farmland and forest. It didn't linger like more damaging storms, and by the time it hit key oil platforms and ports, Dean had weakened.
It also helped that people heeded the government's warnings, which were issued in Spanish and in Mayan languages: At least 18,000 fled to government shelters before the storm hit. Tourism officials also got organized, evacuating more than 50,000 tourists from Cancun and the Riviera Maya.
Soldiers escorted all but a stubborn few out of Majahual, a village with a huge concrete pier that 1 million cruise ship passengers per year recognize as the Puerto Costa Maya stop on their itineraries.
The eye of the hurricane passed directly over Majahual, and it turned out to be the only town that suffered catastrophic damage. Sustained winds of 165 mph and a powerful storm surge demolished hundreds of houses, crumpled steel girders, splintered wooden structures and washed away huge sections of the pier.
Copyright 2018 The Associated Press. All rights reserved. This material may not be published, broadcast, rewritten or redistributed. We strive to uphold our values for every story published.