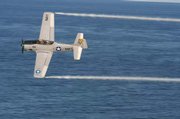 Herb & Ditto
What: KC Aviation Expo & Airshow
When: 9 a.m. -5 p.m. Saturday and Sunday
Where: Charles B. Wheeler Downtown Airport
Tickets: $12-$15
(all-ages show)
Ticket info: www.kcairshow.com
Back before cigarettes became public enemy No. 1, partygoers were often entertained by the seasoned smoker who could produce rings of smoke with a few puffs. The really skillful types could even blow smaller rings through the larger ones.
Herb Baker has put a personal spin on that trick ... times 10.
The Lawrence native and veteran pilot developed a stunt four years ago that has been wowing onlookers at air shows across the nation.
"I wanted wingtip smoke to demonstrate the airplane better," Baker says.
"The aerodynamics of an airplane create a vortex like a tornado on the end of the wingtip. I put the smoke right in that vortex. I didn't predict all this, but when I'm pulling Gs like in a loop - 3Gs, 4Gs - these two trails of smoke get together from the right and left and re-form into rings."
Baker says spectators particularly appreciate his signature maneuver.
"I fly back through those rings and do a roll through them. Nobody else in the world can do that," he says.
Baker's act, Herb & Ditto, will be performing the smoke trick and others at the Kansas City Aviation Expo and Airshow this weekend.
And who is Ditto? That's the T-28C plane that Baker considers his professional partner.
"The airplane I fly is a former Navy trainer with a tailhook used for carrier qualifications. What I do with it is way beyond what is normally done with a training airplane," he says.
Named for the cutesy code word in the 1990 film "Ghost," Ditto was built in 1957 and retains most of its original equipment. The plane served on two U.S. carriers in the Gulf of Mexico until the 1970s.
Ditto is the type of plane Baker would have flown in the service, only things didn't work out that way.
"I wanted to fly in the Navy since I was a kid. I went to what used to be Olathe Naval Air Station right after high school graduation and took the physical. But I found out I was nearsighted," he recalls.
So Baker tried Kansas University for a year. While that didn't work out so well, either ("I wasn't smart enough," he jokes), he eventually obtained his pilot's license in 1960.
He became a mechanic in the Air Force, and after earning an engineering degree at Parks College of Engineering, Aviation and Technology at St. Louis University, he began a lengthy career in the aviation industry.
Now based in Wisconsin, Baker returned to Lawrence last year for his 50th high school reunion. One of his former classmates, Ken Wolf, is organizing another reunion of sorts this weekend, when he and about 25 others from their Lawrence High School class of 1956 will caravan to watch Baker perform his show.
"If you would've known me in my early days, you would have never believed I would've ventured into the entertainment industry," Baker admits. "Some people call us stunt pilots, but we're really in the entertainment industry."
Copyright 2018 The Lawrence Journal-World. All rights reserved. This material may not be published, broadcast, rewritten or redistributed. We strive to uphold our values for every story published.