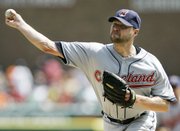 Indians 3, Tigers 1, 10 inn.
Detroit - Jake Westbrook and Nate Robertson kept the game scoreless through eight innings. Then in a battle of the bullpens, the Cleveland Indians did better - barely.
Pinch-hitter Kenny Lofton's infield single off Joel Zumaya drove in the go-ahead run with two outs in the 10th inning, and the Indians beat Detroit to open a 21â2-game lead over the Tigers in the AL Central.
Down 3-0, the Tigers still had a chance to win a series for the first time since mid-July. Marcus Thames hit an RBI double with two outs in the 10th off Joe Borowski, putting a pair of runners in scoring position, but Ivan Rodriguez popped up to end it.
Westbrook allowed five hits and two walks - one intentional - over eight innings. He seems to have turned his season around, winning three of his previous five outings after starting 1-6.
Twins 5, Orioles 2
Baltimore - Boof Bonser pitched seven innings of three-hit ball to earn his first win since June 10, and Minnesota took advantage of shoddy fielding by Baltimore. Steve Trachsel (6-8) took a three-hitter and a 1-0 lead into the eighth inning, but the Twins capitalized on three walks and two errors to score four runs.
Athletics 12, Devil Rays 2
St. Petersburg, Fla. - Mike Piazza hit his 424th homer, had four hits and drove in a season-high five runs. Piazza hit a two-run shot - his fifth of the year - off Brian Stokes to extendthe A's lead to 10-1 in the sixth. Chad Gaudin (10-9) allowed one run over seven innings, and Jack Cust hit a two-run homer.
Mariners 9, Rangers 3
Arlington, Texas - Ichiro Suzuki had a three-run double between homers by Jose Guillen and Jose Vidro during a seven-run inning. Jeff Weaver (6-10) won his fourth straight start in August.
Blue Jays 5, Angels 4
Anaheim, Calif. - Toronto rookie Jesse Litsch scattered six hits and pitched into the seventh inning.
Copyright 2018 The Associated Press. All rights reserved. This material may not be published, broadcast, rewritten or redistributed. We strive to uphold our values for every story published.