Kansas University's cornerbacks insist they'll perform better than last season. Ask them why, and you'll hear two universal answers.
Experience. And Je'Ney Jackson.
"Coach Jackson's the real deal, man," junior Aqib Talib said. "He got my press technique up to par. He's been there before. He knows what it takes to get up to the next level."
Jackson, a strength-and-conditioning assistant at KU the last two seasons, was hired in February to replace Earnest Collins as the Jayhawks' cornerbacks coach. He was an All-WAC cornerback at Wyoming in 1997. Now he faces the challenge of resurrecting a pass defense that ranked last in the NCAA in 2006.
"He played the position, so he knows how it is," cornerback Gary Green said. "I love coach Jackson, man."
One of Jackson's first orders of business will be divvying up the playing time. With preseason All-Big 12 selection Talib entrenched at one position, the other side of the field could be guarded by Green, incumbent Anthony Webb or freshmen Chris Harris or Phillip Strozier.
At recent open practices, Harris took the first-team snaps opposite Talib.
"I never thought I'd be in this situation (as a freshman)," Harris said. "I thought I was going to have to compete to be in the top three, just to get on the field in the dime and the nickel."
Harris got his chance when junior-college transfer Kendrick Harper sustained an undisclosed injury during practice. Harper could return in time for Big 12 Conference play, further muddling the position.
"I feel like I belong," said Harris, who played safety in high school in Bixby, Okla. "I feel like that's my spot."
Harris credits Jackson for his steady improvement.
"With coach Jackson," Harris said, "everything has to be perfect."
That's a point Jackson has tried to drive home: Every play matters.
"If you mess up, it's usually six points," Jackson said of his position. "So there's that sense of urgency, 'OK, I've got to be the best, and if I'm not the best, it's probably gonna equate to points on the scoreboard.'"
Jackson is passionate about keeping points off the scoreboard. He always is one of the most animated coaches at practice, his players say.
That's not by accident.
"I'm a fiery type of person," Jackson said. "That's how I played, and that's how I feel it needs to be done. At corner, you've gotta have a different type of attitude. I just want to make sure all those guys have that attitude."
Jackson has tried to instill that state of mind in all his corners, including star pupil Talib, who expects a challenging year despite being stronger than last season when he was named first-team All-Big 12.
"I expect them to go after me," Talib said. "They did last year, and I don't see why that would change this year."
Talib says he is confident the unit is vastly improved from last season, and he can't wait to prove it Sept. 1 against Central Michigan. He says he'll take responsibility if the defensive backs get burned.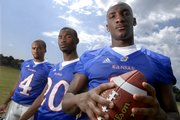 "Even if I wasn't a team captain, I'd feel responsible for our situation in the secondary," he said. "I'm one of the older cats in the secondary, so we got to get it better."
Whether Jackson, who holds the Wyoming record with a 98-yard interception return, can expedite that improvement remains to be seen.
But he's happy with his experience so far.
"It's great for me, being back on the field," he said. "It's been a couple years, so it's terrific getting back out there and seeing guys hit each other and to be more responsible for the wins and losses."
Copyright 2018 The Lawrence Journal-World. All rights reserved. This material may not be published, broadcast, rewritten or redistributed. We strive to uphold our values for every story published.