Photo Gallery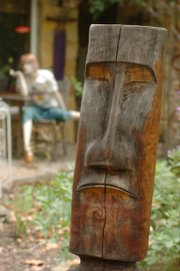 Schmiedeler Yard Art
I don't know if Bonnie and Ed Schmiedeler take cloth bags to the grocery store. I'm not sure if they collect rainwater to moisten the earth, and I wouldn't know whether they make a monthly trip to recycle newspapers, bottles and cans. But one thing I'm absolutely sure of is their garbage man loves them.
The Schmiedelers see utility and beauty in old, forgotten objects and don't waste much of anything. Their home and garden are full of recycled finds - a visual depiction of the adage "one man's trash is another man's treasure."
In this oppressive August heat, it's nearly impossible to find homeowners willing to let a garden writer near their yard. The flora is brittle, lawns are crusty and the mere idea of doing anything outside other than soaking in a pool is unthinkable. What a perfect time to feature the Schmiedelers, because Bonnie and Ed don't depend solely on living, growing things to reflect their personalities in the great outdoors. In fact, the plants in their rural Johnson County yard accentuate the found objects more than the other way around.
What sort of found objects? Well, what pops into your mind?
Did you say old rusty springs that hang from tree limbs and double as a votive holder? Check. What about an old air-conditioning fan slowly turning in the barely-there August breeze? Check. Were you about to say a distorted spoon and fork mobile clinking near a doorway? Got it. I know, I know; you think you've stumped them with a turkey made from tractor seats, but nope. They have that, too.
Did you mention discarded wooden shutters now used as a clematis trellis? Again, check. Or what about Ruby the mannequin, whom they dress in various outfits according to the weather and move around so her vantage point is always fresh.
"She needs new hair," says Bonnie. "That hair is pretty matted down. She had on a coyote hat for winter, but the birds came along and picked it clean."
You keep thinking of objects, because I'm almost positive as you continue to read you'll find the Schmiedelers have them, too.
So how does a vision like this get started?
"We are both collectors," Ed says. "We have a heritage of valuing older items. Bonnie has a lot of pieces from her grandmother, and I just tend to find items - plus my son got me started on collecting rusty, old pieces of junk."
I suppose interesting objects are everywhere if you just know where to look. Ed tells me that all farmers have big heaps of antique implements and tools just lying around, and those are always good to raid. Sometimes serendipity inspires creations, like the time Ed saw an old water spigot with a crystal hanging out of the spout. He came home and recreated them to dole out to everyone as Christmas presents.
The Schmiedelers live on 10 acres in the country, so they have plenty of room to express their creativity. They moved into this home 18 years ago, hoping to avoid traffic jams and commune with all of the animals and birds they so enjoy.
"We feed everybody," Ed says. "You'll see lots of hummingbirds."
And I did. During my visit, I spotted four of them buzzing around.
The ground under the Schmiedelers' home is built onto a rock ledge, making growing flora a real matter of trial and error.
"What is here is the survival of the fittest," Bonnie says. "When we first started planting, we would put an exotic here and some other risky flower there - and then, of course, it would die. We wasted hundreds of dollars doing that."
In response to this dilemma of either investing in a jackhammer or relocating altogether, the Schmiedelers built an elaborate deck with lots of angles and avenues, exits and entrances, places to sit and corners where large pots to reside.
Dangling, nailed, glued and resting on the railings of the expansive deck are floor grates, old stove grills, caps from farm instruments, mower blades, pans, muffin tins, weights, scales, antique pot turners, shelving brackets, wrought iron fencing, rusted watering cans, old porcelain bathtubs and sinks converted into planters, a grindstone wheel, old bikes, bells and masks. The sun garden has a border of wine bottles turned upside down with a rusty old reel mower, an antique baby crib made of iron, plus a seatless wooden chair with ornamental grass growing through it.
"We just take dead utensils and stick them in the ground," Bonnie says.
The couple even has a retired VW bus - they call it the "magic bus" - permanently parked in the back of the garden, covered with an abstract painting reminiscent of something you'd see under a microscope. The bus is now a playground for the grandkids.
There's a wooden sculpture that looks like one of the Easter Island heads; the Schmiedelers call it Ken-Tiki because a friend named Ken sculpted it for them.
And just when I think I've seen all the bowling balls, cobbler benches, crystals, bells, pipes and doodads on the property of these sentimental time-travelers, I'm proven wrong. As I walk down the driveway to leave, I spot two totem poles - one made of boots, sneakers, heels, flip-flops and any kind of shoe ever manufactured, and the other an ode to coffee mugs.
I have to chuckle to myself and admire their eye for art.
Copyright 2018 The Lawrence Journal-World. All rights reserved. This material may not be published, broadcast, rewritten or redistributed. We strive to uphold our values for every story published.