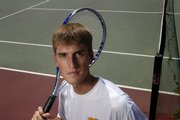 Just four years removed from a fifth-place finish at the Class 6A state tennis tournament at Lawrence High, Scott Elwell has found himself back in Lawrence and back on the tennis courts.
After playing tennis on partial scholarship at the University of Iowa, Elwell's initial decision to return to Lawrence was to work at First Serve Tennis Center.
"That opportunity became available to me to work out there as the head pro position out there," Elwell said. "So with that option available, I decided it would be a great opportunity to come back to Lawrence, which I love."
But within months of returning, another opportunity arrived.
With Seabury Academy splitting up its coed tennis team to create a girls squad for the fall, athletic director Eric Nelson offered Elwell the chance to become the program's first head coach.
"I thought he was a guy with a lot of energy and a lot of tennis knowledge and some local roots," Nelson said. "He was the perfect one for the job, and I was just really excited that he agreed to take on that position. ... I read the sports pages when Scott Elwell was playing tennis at Lawrence High. I recognized his name from that, so sure, there's some name recognition that's helpful. Seabury is kind of up and coming with this girls tennis thing, so it's good to put a familiar, Lawrence kid or Lawrence tennis guy in charge of our program. It's a good fit."
Elwell had plenty of success at LHS to warrant the headlines.
"It was definitely a difficult setting because the top guy in the state was also the top guy in the country," Elwell said. "But I qualified for state all four years and finished in the top five every year. That, I think, was a pretty good accomplishment. Obviously, I could have done a little bit better, but I definitely feel satisfied with what I accomplished there."
That propelled his collegiate career, where his doubles team finished ranked nationally in the top 15.
Elwell said he anticipated integrating his playing experience into his first year of coaching. He already has seen how the girls play at First Serve over the summer.
"All of these girls we have coming out this season, they come out to First Serve and play so I got acquainted with them there," Elwell said. "Over the summer the girls just came out and practiced and were hitting with each other. I think it's great that they're dedicated to the sport and really looking to get better. I think that should really transition well to us having a good season."
The girls already seem to be on board with the decision to go with Elwell for the program's inaugural year.
"With being such a small school we all participate in everything and we're not expected to go really far," senior Gabrielle Dillon said. "And with him, I think we'll actually be able to get somewhere.
Copyright 2018 The Lawrence Journal-World. All rights reserved. This material may not be published, broadcast, rewritten or redistributed. We strive to uphold our values for every story published.