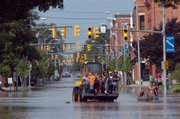 Findlay, Ohio — Firefighters and a volunteer armada navigated boats through streets awash in waist-deep water Wednesday, plucking neighbors and pets from porches as flooding that has swamped the Upper Midwest and Plains settled in Ohio.
The water forced at least 500 people to flee their homes in several northern Ohio towns. Rising water forced authorities to move about 130 inmates at the county jail in Findlay to a regional prison.
Many neighborhood rescuers showed up with canoes and kayaks wanting to help during Findlay's worst flooding in nearly 100 years. Three men in a fishing boat ferried a mother and her 2-week-old daughter along with the family dogs.
"That was the catch of the day," said Angel Sanchez, the baby's neighbor.
Milk jugs, garbage bags and soda cans floated in the murky water. Tom Woods took his 8-foot fishing boat to help float out friends stranded in the neighborhood.
"Once we got here, everybody asked us to rescue more people," he said.
The Blanchard River was 7 feet above flood stage Wednesday at Findlay, the highest since a 1913 flood, and could rise another half-foot or more, the National Weather Service said.
The rain subsided by mid-afternoon, and the National Weather Service issued a heat advisory for much of the state, with temperatures expected to hit the upper 90s.
In Bucyrus, 40 miles to the southeast, nearly 9 inches of rain had fallen since Monday and at least 200 people were still out of their homes, the Crawford County Department of Emergency Management said.
"Reality is starting to set in about just how much damage there is in some of the flooded areas," said Tim Flock, director of the agency.
Gov. Ted Strickland declared states of emergency in nine counties in northwest and north-central Ohio, including Crawford County and Findlay's Hancock County.
The death toll from two storm systems - one that has spanned the Upper Midwest and another from remnants of Tropical Storm Erin in Texas, Oklahoma and Missouri - reached 22 on Tuesday when searchers found the body of a man tangled in a tree near Lewiston, Minn.
Flooding also continued in northern Iowa as thunderstorms dumped more heavy rain across the already water-logged region Wednesday. Three subdivisions along the Des Moines River near Fort Dodge were evacuated, and crews used rocks and sandbags to shore up a levee that had begun to give way, officials said.
In addition to the confirmed flood-related deaths, a man drowned Sunday in his mother's flooded basement in Iowa after being overcome by carbon monoxide, the state medical examiner's office said. And in Madison, Wis., three people standing at a flooded intersection were apparently electrocuted Wednesday when lightning hit a utility pole, causing a power line to fall in the water, authorities and witnesses said.
Copyright 2018 The Associated Press. All rights reserved. This material may not be published, broadcast, rewritten or redistributed. We strive to uphold our values for every story published.