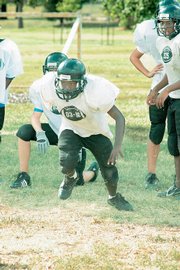 South eighth-grader Traivon Oliver has played football before.
In years past he played with Lawrence Youth Football, a place where tough practices under hot conditions were not uncommon.
But on Aug. 13, Oliver was in for a bit of a surprise. It was the first day of junior high football practice, and he hadn't seen anything like it.
"I can't believe they're working me this hard," Oliver said of his initial reaction to that first workout.
The jump from the LYF ranks to junior high can be a bit of a shock, even for players such as Oliver who have had previous experience. But the shock is in some ways a positive.
"It's definitely a challenge," Oliver said. "And it's hard to get used to, but after a few days it's a lot better."
Oliver, along with many of South's eighth-grade squad, is also dealing with another change from his past football experience.
He played linebacker with LYF and now looks to earn a spot at running back.
Along with the often gut-wrenching practices, there's the pesky matter of learning a new position.
"The biggest thing is learning the offensive plays," Oliver said. "They can be tough at times and complicated, but I think I'm going to do all right."
The experience at linebacker could help Oliver establish himself as a running back down the road. But for teammate Troy Willoughby, there is no such football experience to fall back on as he also looks to latch on in the backfield.
The 14-year-old - who also plays basketball and baseball - didn't play football with LYF or any other group. Not that he didn't want to.
"I was going to play in the sixth grade," Willoughby said. "But I broke my nose, so I had to let that heal."
This year, Willoughby took the step he had meant to take a few years back, and his impressions of his first foray into football were mixed.
"It's been all right," Willoughby said. "It hasn't been that bad for me. But It was kind of hard at first because we had to get up at 5:45 a.m. and come to practice."
Copyright 2018 The Lawrence Journal-World. All rights reserved. This material may not be published, broadcast, rewritten or redistributed. We strive to uphold our values for every story published.