Kansas University volleyball coach Ray Bechard doesn't put much stock in the Big 12 Conference preseason coaches poll.
Bechard anticipates his team will do better than predicted - they were picked 11th - even though four of the conference teams are ranked nationally in the preseason poll. Nebraska is No. 1, Texas fourth, Missouri 20th and Oklahoma 22nd, with Colorado, Iowa State and Texas A&M; also receiving votes.
"Our goal for this year is a top-five finish in the Big 12," Bechard said during KU's fall olympic sports media day Monday. "Any top-five finish in the Big 12, I think, will assure you a spot in the NCAA Tournament, which is obviously the ultimate goal for this group this year.
"That's something we got done three of the last four years, a little stub of our toe last year. We feel like the team is extremely excited about rectifying that situation this year, so we're excited about that."
The second half of the 2006 season was unkind to Kansas after it started the season with a 7-1 record.
Following a sweep of then-No. 16 BYU, the Jayhawks won just three of their remaining 21 matches - being swept in 11 of the 18 losses.
"We can't have one big win and then think, 'Oh, that's it.' We need to just keep working for every win," senior Caitlin Mahoney said. "I don't have an explanation for that little dip, but it seems from my years here that it seems to happen. Now that we're really aware of it, hopefully that will really help us."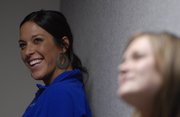 This season will be even more important for Mahoney and Baldwin High grad Emily Brown, the only seniors on the squad.
"With this being our last season, of course we're going to want to make it a little further than we ever have," Mahoney said. "So that will help us be motivated."
Juniors Natalie Uhart and Savannah Noyes are the only other upperclassmen on a squad that sports seven sophomores and five freshmen.
"A lot of our team is young, but I think the sophomores are realizing that they're not freshmen anymore, and so with that I think they'll give some advice to the freshmen," Mahoney said. "Hopefully they'll take the freshmen more under their wings because they know that they just went through that year. So hopefully it will just trickle down."
The volleyball team will travel to Oregon this weekend to compete in the Oregon Invitational. The Jayhawks' first opponent will be Cal State-Bakersfield.
"We're a little bit stressed because we get to play already Friday, and as everybody across the country, I'm sure all the volleyball coaches would like to have a little bit more time," Bechard said. "And the players would say, 'No, we've had enough practice. We're ready to play.'"
Copyright 2018 The Lawrence Journal-World. All rights reserved. This material may not be published, broadcast, rewritten or redistributed. We strive to uphold our values for every story published.