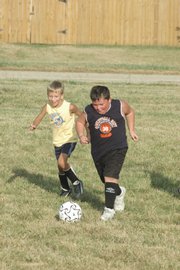 After a long, hot layoff, the fields at Youth Sports Inc. will once again come to life as Saturday marks the opening of the Kaw Valley Soccer Association's club and recreation seasons.
"It's going to be a great atmosphere," KVSA coach Mauro Nobre said. "It's very festive out here for the first day. The kids have been looking forward to playing for a long time and they'll get to see some of their friends they haven't seen in a long time."
Saturday's schedule will have nearly 30 teams and 350 players taking the field for the opening games.
That number of players includes an additional eight teams added to the league rosters.
Perhaps most importantly, those in club league will get to show off some new threads for game day.
"The club league will get to wear their new uniforms," Nobre said. "They love it, it's a real sense of pride for them to get to wear these new uniforms."
Games will kick off at 8 a.m. Saturday at YSI.
Copyright 2018 The Lawrence Journal-World. All rights reserved. This material may not be published, broadcast, rewritten or redistributed. We strive to uphold our values for every story published.