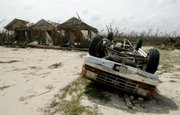 Majahual, Mexico — Hurricane Dean swept across the Yucatan peninsula Tuesday, toppling trees, power lines and houses as it bore down on the heart of Mexico's oil industry. Glitzy resorts on the Mayan Riviera were spared, but vulnerable Mayan villages were exposed to the full fury of one of history's most intense storms.
President Felipe Calderon said no deaths were immediately reported in Mexico, after Dean killed 13 people in the Caribbean. But driving rain, poor communications and impassable roads made it difficult to determine how isolated Mayan communities fared in the sparsely populated jungle where Dean made landfall as a ferocious Category 5 hurricane.
"It wasn't minutes of terror. It was hours," said Catharine Morales, 30, a native of Montreal, Canada, who has lived in Majahual for a year. "The walls felt like they were going to explode."
One of a handful people to ignore military orders to evacuate, she weathered the storm in her new brick-walled house with her husband and 7-month-old baby. Winds of 165 mph - with gusts of 200 mph, faster than the takeoff speed of many passenger jets - blew out windows and pulled pieces from their roof.
Hundreds of homes were collapsed in Majahual when Dean's eye passed almost directly overhead, crumpling steel girders, splintering wooden structures and washing away about half of the immense concrete dock that transformed the sleepy fishing village into one of Mexico's busiest cruise ship destination. The storm surge covered almost the entire town in waist-deep sea water.
Dean weakened over land but was expected to strengthen as its eye moved over the Bay of Campeche, home to more than 100 oil platforms and three major oil exporting ports.
The sprawling, westward storm was projected to slam into the mainland this afternoon with renewed force near Laguna Verde, Mexico's only nuclear power plant. Plant officials said late Tuesday that they were suspending electricity production and sending many workers home.
Plant manager Rafael Fernandez said the storm didn't pose a threat but would prevent normal operations: "We can't produce energy if we don't have the lines to distribute the energy."
At 10 p.m. CDT, Dean had winds of 80 mph and was centered about 215 miles east-northeast of Veracruz. It was moving west-northwest at 18 mph, the National Hurricane Center said.
"We often see that when a storm weakens, people let down their guard completely. You shouldn't do that," said Jamie Rhome at the U.S. National Hurricane Center. "This storm probably won't become a Category 5 again, but it will still be powerful."
Dean's projected path is 400 miles south of Texas, where only heavy surf was expected.
Copyright 2018 The Associated Press. All rights reserved. This material may not be published, broadcast, rewritten or redistributed. We strive to uphold our values for every story published.