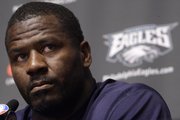 Philadelphia — Takeo Spikes answered his cell phone Monday night. He always takes Jeremiah Trotter's calls.
"Well, Spikes," Trotter said, "you know the dreams about playing with each other, getting the crowd hyped, doing the ax, doing the T-K-O? We're going to have to put it on hold."
The ax had fallen on the Ax Man. The Eagles cut the 30-year-old, four-time Pro Bowl middle linebacker Tuesday. Trotter's career in Philadelphia is over. The nine-year NFL veteran spent seven years in Philadelphia.
In a classy move, Trotter pulled into the NovaCare Complex as practice was ending. He got out of the passenger side of a black BMW and quietly walked inside.
Trotter addressed the team, telling his former teammates to savor each opportunity on the field, each moment with the team, then essentially passed the middle linebacker torch to the young Omar Gaither and hugged his former teammates.
When Reid summoned Trotter to his office after Monday's practice, Trotter had no idea what was about to happen. He said he was stunned by the news, but sounded neither bitter nor remorseful.
"It was pretty emotional," Trotter said of his meeting with Reid. "At the end, we were like two old ladies up there. Obviously, I know he didn't want to make the decision. But as a head coach, you have to make tough decisions for the organization, and I respected it. I just told him I really appreciated everything he did for me, the organization and the city."
Ferguson joins Vikings
Eden Prairie, Minn. - Robert Ferguson hustled out to the practice field Tuesday in his new uniform, a few minutes behind schedule and several hours behind on sleep.
The 27-year-old wide receiver has fallen behind in his career development, too. After moving from one NFC North team to another this week, Ferguson was eager for a fresh start with Minnesota - and the chance to face his former employer, Green Bay, twice this season.
Despite minimal production over six injury-filled seasons for Green Bay, Ferguson instantly became Minnesota's highest-profile receiver when he signed a one-year contract with performance incentives that could push his salary past $1 million.
Redskins Ink Godfrey
Washington - The Washington Redskins signed veteran linebacker Randall Godfrey Tuesday and released former starting middle linebacker Lemar Marshall, the longest-serving player on the defense.
Marshall, 30, struggled in 2006, as the defense's ranking fell to 31st in the league and his undersized body gave way to the intense pounding of playing middle linebacker.
Godfrey, 34, who has been on the free-agent market since March, agreed to a one-year, $1.3 million deal Monday night.
Seahawks retain Wallace
Kirkland, Wash. - Seneca Wallace isn't going anywhere. The backup quarterback still will be with the Seattle Seahawks should something happen to starter Matt Hasselbeck.
Wallace agreed to a four-year extension on Tuesday that will keep him under contract through the 2010 season. He was set to become an unrestricted free agent after the 2007 season, but now is locked up after agreeing to his second extension in 12 months.
Kircus arraignment delayed
Centennial, Colo. - An arraignment for Broncos receiver-returner David Kircus on an assault charge stemming from a fight that landed a 26-year-old man in the hospital with facial fractures was delayed until Oct. 2 .
Kircus' attorney Harvey Steinberg said the arraignment was delayed to provide more information to the prosecution.
If convicted of second-degree assault, Kircus could face five to 16 years in prison. He also could lose his job.
Vick could face more charges
Richmond, Va. - Michael Vick's legal troubles from dogfighting could get even worse.
The Atlanta Falcons quarterback faces possible prosecution in state court, where punishment might far exceed the maximum five years in prison that could await him in his federal case.
Local prosecutor Gerald Poindexter has said he likely will pursue charges against Vick, who has plummeted from favorite son to a symbol of animal abuse in the four months since authorities raided his Surry County property. Poindexter says the case could go before a county grand jury Sept. 25.
Among the state laws Vick could be charged with violating are those against dogfighting and animal cruelty. Both are felonies punishable by up to five years in prison.
Vick said through a lawyer Monday that he will plead guilty to a federal charge of conspiracy to travel in interstate commerce in aid of unlawful activities and conspiracy to sponsor a dog in an animal fighting venture.
Copyright 2018 The Lawrence Journal-World. All rights reserved. This material may not be published, broadcast, rewritten or redistributed. We strive to uphold our values for every story published.