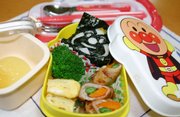 On the street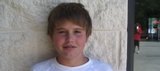 If I'm hungry enough, I eat the school lunch. Hopefully, I remember to bring one.
For boys, it was between G.I. Joe and Star Wars. For girls, My Little Pony and Strawberry Shortcake.
A generation later, the back-to-school ritual of selecting a new lunch box involves much more than choosing among pop culture icons. Upgrades in style, storage and technology - not to mention changes in eating habits - have redrawn the lunch box landscape.
Will it be a soft-sided, multi-pocketed tote, variants of which are pushed everywhere from Wal-Mart to Pottery Barn? Would your budding gourmet prefer one of the fancier bento box-style carriers, long popular in Asia but now catching on here? Maybe your tyke is ironic enough for the retro metal box of your youth, albeit with some upgrades?
This year, Americans will spend some $18 billion on back-to-school shopping, with more than $3 billion of that going to school supplies, the retail category that includes lunch boxes, notebooks and folders, according to the National Retail Federation.
What Americans pack inside their lunch boxes can vary, although sandwiches and sides are typical - as are reheatable left-overs from last night's dinner.
Here's a look at children's school lunches abroad, as reported by Associated Press correspondents around the world:
China
Children seldom bring lunch to school in Beijing. Their lunches are arranged by the school and they pay a monthly fee.
Schools order boxed lunches - usually rice, meat and vegetables in a takeaway box - from food companies supervised by the local educational authority. The cost is usually about 5 yuan (66 cents) to 10 yuan ($1.32) a day.
France
Three- or four-course hot lunches are the norm for French kids, even in preschool. The meal might include veal cutlets, paella or apple clafoutis. And while some go home for lunch, children generally don't bring food from home.
India
It's unusual for schools in India to serve lunch, so most children carry what is called tiffin to school.
Tiffin usually is a home-cooked meal or snack, which varies by region. For example, children in the north might eat parathas, a fried flat bread, with yogurt and pickles. Children in the south are more likely to have some kind of rice.
But sandwiches aren't uncommon. Fillings include cucumber, butter with jam, and eggs.
With the arrival of American fast food, some well-to-do urban children may pack pizza or a chicken burger into their tiffin boxes, or a candy bar.
Children in the city usually carry westernized lunch boxes, often with cartoon characters.
Israel
Children in Israel go to school six days a week, so the school day is shorter than in the U.S.
Elementary school students finish studies around 1 p.m. and go home for lunch. However, they take a snack for what is known as "aruchat eser," the 10 a.m. meal. This is usually a small sandwich, such as pita and hummus, a hard-boiled egg or a package of yogurt and a piece of fruit.
Lunch boxes aren't used. The food is simply put in a small plastic bag inside the children's backpacks.
Italy
The first question many Italian parents ask when they pick up their children after school is "How was lunch?" or "Did you eat all your lunch?"
Just as at restaurants and home, children are served a "primo" (first course), which often is pasta (pasta corta, or short pasta, since spaghetti would be inviting a messy disaster). Other typical primi include risotto or vegetable soup.
For "secondo," there is a protein centerpiece, with vegetables, such as peas or roasted potatoes. The protein might be a veal cutlet, a frittata or caprese (mozzarella with tomatoes). Friday often sees fish sticks or some other fish, reflecting the country's centuries-old Roman Catholic traditions.
There always is fresh bread. Beverages consist of one thing: water. For dessert, there usually is a piece of fruit, though in warmer months, once a week there might be yogurt or gelato.
Japan
Japanese schools usually prepare lunches and students eat in their classrooms. A typical lunch consists of a bowl of rice or bread, a main dish (of meat or fish) and a few side dishes.
On some occasions, such as sports festivals or outings, students bring a lunch their parents - mostly mothers- make. That's when mothers often prepare a colorful, cute lunch box featuring a character from popular cartoons with vegetables cut into the shapes of stars and flowers. Some of the packed lunches are exceptionally elaborate and beautiful.
Mexico
Many Mexican schools build their school day around the country's traditional, large lunch served at home in the late afternoon, so children usually just pack a snack in their bookbags.
A favorite is the ham-and-bean sandwich, usually wrapped in a napkin and sometimes stored in a plastic bag. Others pack fruit or vegetables.
Some bring chiliquilies, a mixtures of fried tortilla chips, salsa and cheese, in a plastic container. Those who don't pack a lunch often bring a few pesos to buy snacks from vendors that hang out around schools at snacktime.
Palestinian territories
Children here have a short day and eat lunch at home.
But for a snack they usually bring pita bread stuffed with several fillings. Traditionally, the small round bread is stuffed with labneh, a hardened, tangy yogurt; or zatar, a mix of dried, crushed hyssop and olive oil. Parents with a little more money also stuff pita with chocolate spread.
Copyright 2018 The Associated Press. All rights reserved. This material may not be published, broadcast, rewritten or redistributed. We strive to uphold our values for every story published.