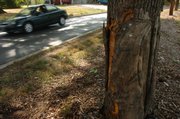 Three Kansas University students remain in a Kansas City, Kan., hospital this morning after an early morning wreck near campus.
According to a Lawrence police statement, at 1:10 a.m., the driver of a Ford Mustang convertible, 18-year-old Nicholas Dutoit, of Olathe, lost control while headed south on Naismith Drive. The car slammed into a tree near 19th Terrace.
An emergency crew extricated Dutoit from the vehicle, and he was taken to Lawrence Memorial Hospital where he was treated and later released, said Belinda Rehmer, an LMH spokeswoman.
The wreck ejected two 18-year-old passengers from the vehicle's back seat. They were Amber Henke, of Downs, and Daniel Tuttle, of Olathe. Both were flown by air ambulance to the Kansas University Hospital in Kansas City, Kan. Tyler Duncan, 18, of Lawrence, was in the front seat and taken to LMH. He was later transferred to KU Hospital, Rehmer said.
KU Hospital spokesman Bob Hallinan said condition updates on Henke, Tuttle and Duncan were unavailable this morning due to the hospital's patient privacy policy.
Also in the back seat, Christopher Hong, 18, of Lawrence, was taken to LMH where he was treated and released, Rehmer said.
Police have said that all five were residents of the nearby Oliver Hall.
Officers have not issued any citations and were still working on an accident report, police spokeswoman Kim Murphree said.
Copyright 2018 The Lawrence Journal-World. All rights reserved. This material may not be published, broadcast, rewritten or redistributed. We strive to uphold our values for every story published.