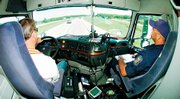 Tips from troopers on staying out of trouble
To avoid tickets:
Stay out of blind spots.
Never follow a large truck too closely.
Don't speed.
Use extra caution when passing a truck.
Remember a semitrailer needs as much as 100 yards to come to a complete stop.
Always use your turn signal.
Always use seat belts and child safety seats when appropriate.
Source: kansashighwaypatrol.org
A quick way to upset Chris Jones, a jovial semitrailer driver who prides himself on his pristine driving record, is to hang out in his blind spot on the highway.
If you really want to raise his blood pressure, you'll try to pass him in the right lane after he's moved to the left lane for a Kansas Highway Patrol trooper on the shoulder.
After all, it's the law.
"I don't want to witness a trooper getting killed because someone didn't follow the law," he said. "I'm doing the right thing. It's two to three seconds of their time. To risk someone's life, it's not worth it."
Jones, an Ottawa resident whose father and grandfather were truck drivers, has been driving trucks for 18 years. He wants people to realize that such careless driving can turn deadly.
Such an example occurred Wednesday when a semitrailer driver died trying to avoid a Mazda that was in his way on Interstate 435 near Edwardsville. The trucker swerved to miss the car and lost control of the cab, which went off the road and into an embankment where it caught fire.
Accidents like this prompted the highway patrol and the trucking industry to join forces to create the "Trucks On Patrol for Safety" program, which began in April. The program allows troopers to ride with semitrailer drivers so they can see the violations that occur.
According to the Kansas Department of Transportation, there were 68 fatal collisions involving large trucks in 2005, which is the latest data available. That same year, large trucks were involved in 5.7 percent of traffic crashes and 17.7 percent of fatal crashes.
Lt. Chris Turner of the Kansas Highway Patrol said only about 30 percent of accidents nationwide are caused by semitrailer drivers.
"Most of the time, the truck is not at fault," Turner said.
But often they get blamed for accidents, and Jones can attest to that.
"I get the finger on a weekly basis," Jones said.
Semi driver's view
As part of the TOPS program, Turner and Lt. Richard Jimerson are riding along with semitrailer drivers in the northeast Kansas region. During a ride-along, each truck is equipped with a $10,000 five-camera system. The cameras record the violations of both passenger vehicles and other large trucks.
If a violations occurs, Turner or Jimerson radio other officers along the highway to pull the violator over. Turner said when a person is pulled over, the officer will determine whether a ticket or warning is necessary. Regardless, the individual is informed about the TOPS program, which helps educate people about road safety.
KHP Capt. Dan Meyer said during a recent press conference that most people are receptive to the program.
"A lot of it is education," he said. "They don't understand what they did wrong; they don't understand how their action affects a large truck. Once we explain that, I think the public understands."
On Wednesday, Turner rode along with Jones on Kansas Highway 10 and said the vantage point was a valuable experience.
They made several trips between 23rd Street in Lawrence and the De Soto exit. Nine people were pulled over in about 90 minutes during the early afternoon while a Journal-World reporter and photographer were along for the ride. They made more trips later that day, but the number of citations was unavailable. On average, about 50 people are pulled over for violations in an eight-hour day, Turner said.
Since April, 407 citations and 316 warnings have been given in Kansas as part of the TOPS program.
And they aren't just tickets for moving violations, speeding or not wearing seat belts. There have been three drug arrests and one driving under the influence arrest. Meyer said troopers had pulled over a man who was reading the newspaper, talking on his cell phone and speeding all at once.
He said a $250,000 federal grant will help launch the program again next year. The federal government also will pay for a TOPS media campaign.
Rules of the road
Jones has driven more than 2 million miles and lives by the TOPS campaign motto: Leave more space for trucks.
"The rule of thumb is four seconds," he said. "The rule of thumb in my company, which is one of the safest companies in the country, is eight seconds."
The safety standards for truck drivers is high. Companies are audited by the KHP and can be fined between $2,000 and $100,000.
"You have to hit them in the pocketbook so they think about it," Jones said. "Otherwise, they won't change."
So far, the TOPS program also has given 71 citations to large-truck drivers and 157 warnings. Meyer said troopers had pulled over a semitrailer for an improper lane change and discovered 48 pounds of marijuana.
Trucking companies encourage safety by providing an annual $1,000 bonus for drivers if they don't receive any tickets.
"It's integrity," Jones said. "A lot of people don't realize we have to be out here. At $3 a gallon we're not joy riding, we're not riding around for nothing.
"It's my livelihood. It's my life."
Copyright 2018 The Lawrence Journal-World. All rights reserved. This material may not be published, broadcast, rewritten or redistributed. We strive to uphold our values for every story published.