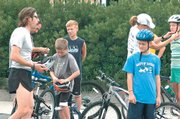 In these days of cell phones and video games, getting kids outdoors and active is becoming harder and harder. That's where a good old fashioned triathlon comes in.
On Sunday at the Lawrence Indoor Aquatic Center that idea got the attention of nine youngsters as the Alive with MissionMe triathlon clinic came to town.
"We are trying to expose kids to the sport of triathlon," Dustin Morris, Alive with MissionMe clinic director, said. "That's the first step. The sport is relatively new, and we want to let kids know that it is an avenue that they can take to be active."
Sunday's clinic offered participants a wide variety of tips on bike and helmet safety, swimming techniques and proper nutrition.
Twelve-year-old Hayley Morris, who also swims with the Lawrence Aquahawks, appreciated the emphasis on eating right in order to perform.
"I don't like junk food," Hayley said. "My parents tell me that I've always eaten pretty healthy."
Along with exposing newcomers to the sport, Morris said his organization also helped those wanting to compete in upcoming triathlons (such as the Sept. 2 Iron Kids triathlon) become better prepared for race day.
"What we're trying to do is work with the Iron Kids series and other triathlon series in the area," Morris said, "to promote and utilize clinics to help the kids learn skills, learn safety and learn fun. Then they can take what they've learned in the clinics and implement it on race day."
Ten-year-old Alexei Milburn was one clinic attendee who planned to participate in the upcoming Iron Kids triathlon. He found the tips and techniques taught at the clinic to be helpful as he prepared for the competition.
"One of the things I learned is to not be in such a big rush during the race," Milburn said.
Aside from exposure to the sport, safety and fun, Dustin Morris hoped to give those who attended an additional shot of something important.
"We hope to build self-confidence in these kids," Morris said. "These clinics hopefully make sure they're having fun and building the confidence that it takes to participate in one of these events."
A second triathlon clinic is scheduled for Aug. 26 at the Lawrence Indoor Aquatic Center.
Copyright 2017 The Lawrence Journal-World. All rights reserved. This material may not be published, broadcast, rewritten or redistributed. We strive to uphold our values for every story published.