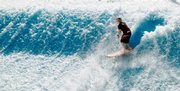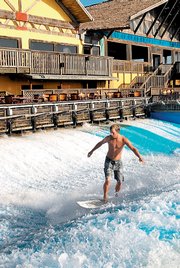 South Padre Island, Texas — The boogie boarders at Schlitterbahn Waterpark know that they have a really cool summer job.
Five nights a week, for a half-hour just past sunset, the park pays a team of 10- to 19-year-olds to perform loosely choreographed tricks on the park's Boogie Bahn, a fast-flowing wall of water that mimics a breaking wave.
The audience cheers as they do headstands and flips, form pyramids and even hula hoop atop boogie boards as water rushes under them at 60,000 gallons per minute.
The paycheck comes with bonuses: access to the wave and pioneer status in flowboarding.
"It's like a sport you can never perfect," said Andy Wood, a 16-year-old on the South Padre team. "There's always new tricks you can come up with."
Teammate Casey Jones, an 18-year-old who won the national flowboarding title in 2003, plans to spend his college summers touring and performing at different water parks.
"You can't just ride it to have fun," Jones said. "You have to have the mind-set of getting better."
Designing a better artificial wave was the obsession of Thomas Lochtefeld, a California attorney and longtime surfer who felt existing surf pools weren't worth the expense or the space.
"There was no good surfing ride that made the rider feel what it was like to take a drop, carve a turn, come back up - get that sensation of surfing," he said.
In the late 1980s, Lochtefeld sold his family's beachfront house to hang out with university engineers and dabble in hydrodynamics.
The result was the Flowrider, a machine that uses patented technology to jet a four-inch sheet of water over a soft, springy base that is shaped like a large, perfect wave. Waveloch, the company Lochtefeld formed, built the first Flowrider in 1989 and sold the first one in 1991.
Users found the wave it created was something like surfing, but different. Unlike roller coasters, water slides and other amusement park features, it was as much a skill ride as a thrill ride.
"It is a hybrid of surfing, snowboarding, and skateboarding, but yet it is its own sport," Waveloch company spokesman Andrew Thatcher said. "The saying is it looks like a wave, feels like a mountain, but then uses the tricks of skateboarding."
Worldwide, Waveloch has built about 70 Flowriders, with about 20 more under construction. By the end of the year, there will be 100.
It's made for inland surfing competitions in Australia, desert surfing in Dubai and a surf club in Cincinnati. The largest was installed in 2005 in Durban, South Africa, and the newest machines are opening in Santiago, Chile; Singapore, Spain; and London.
Lochtefeld said sending water over a framework was intuitive for someone who knew some of the best waves were generated in shallow water over sloping reefs.
"In Big Rock, California, you're only surfing over a foot of water," he said. "I kind of made the extrapolation."
Newcomers start by riding prone, then work up to riding on two knees, then one knee, then the hardest feat - standing.
The South Padre team's Brad Crockett, a lithe 17-year-old who snowboards in Colorado during Christmas and spring breaks, can even shimmy a hula hoop atop the wave's crest.
"It's all about balance, pretty much being able to slide your feet around so you can turn," he said. "A lot of people think it's your upper body that moves you, but it's all in your leg muscles."
Lochtefeld sold his first Flowrider in 1991 to the Schlitterbahn park in New Braunfels, Texas.
When the South Padre Schlitterbahn opened 10 years later, its Flowrider was then the largest in the world, a $2 million machine that can pump more than 100,000 gallons a minute and create a curling wave.
The machines have continued to grow. The Wave House in San Diego now features the biggest manmade wave in the United States, a curling creation known as the "Bruticus Maximus."
To help kick-start the sport in 1999, Lochtefeld loaded the parts that make up Bruticus onto a dozen flatbed trucks and went on a tour, commissioning the world's best snowboarders, surfers and skateboarders to try out their stunts.
It brought exposure, and since then the sport has taken off.
About 80 flowboarders ranging in age from 10 to 50 will emerge from 23 regional competitions to be at the national competition Sept. 22 in San Diego.
South Padre's Jones will be among them, again shooting for the title.
The South Padre team said beginners may be intimidated and afraid of "looking dumb" at first, but with practice will catch on.
"There's a lot of water moving around," Jones said, remembering his first time.
Other advice? The wave can be a hazard to unsecured bathing suits.
"You want to make sure your suits are Boogie Bahn proof," Jones said. "You don't see too many girls riding with bikinis a second time."
Copyright 2018 The Associated Press. All rights reserved. This material may not be published, broadcast, rewritten or redistributed. We strive to uphold our values for every story published.