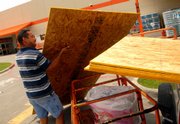 San Antonio — Rescuers searched Friday for people swept away in flash floods caused by the remnants of Tropical Storm Erin, as wary residents across the Gulf Coast watched Hurricane Dean charging through the Caribbean.
At least six people died Thursday and another one was missing because of Erin's thunderstorms.
The storms dropped up to 11 inches of rain in parts of San Antonio, Houston and the Texas Hill Country.
"The ground's already saturated, then with the amount of rain we got today it's just running off and causing flash flooding, so if we get additional rain it will be a major concern for us," said Orlando Hernandez, emergency management coordinator for Bexar County, where San Antonio is located.
The National Weather Service forecast several potential tracks for the unpredictable storm over the next five days - some had it barreling into Mexico; others had it hammering the Texas coast.
In Texas, Gov. Rick Perry declared the storm an "imminent threat" and initiated full-scale preparations. Fuel trucks were dispatched to coastal communities, storm-response task forces were put on alert and supply trucks and other resources were pre-positioned along evacuation routes.
"It's so far out, but it's not too early to start preparing," said Perry spokeswoman Katherine Cesinger. "We have more notice than with Erin. We're glad for that especially since (Dean) is projected to bring some strength."
Louisiana Gov. Kathleen Blanco declared a state of emergency Friday and requested a federal declaration that would allow federal resources to flow to the state should Dean strike any part of the Louisiana coast.
Forecast projections showed a slim chance of the storm jumping northward toward Louisiana, but it was enough to put Louisiana emergency preparedness officials on high alert, given the weakened condition of the state's coastline since it was pummeled by hurricanes Katrina and Rita a little less than two years ago.
In Texas, overnight rain prompted the evacuation Friday of three areas along the Medina River and Medina Lake in Bandera County, county dispatcher Barbara Kincaid said. About 50 people were evacuated from the Lake Hills subdivision on Medina Lake, she said. Most of the river evacuations were RVs parked along the water. There were no reports of injuries.
The storms in Houston killed three people: two died when a roof over a grocery store's storage unit collapsed. One of those was identified Friday as store employee Daniel Whitt, 29. The other man, a Coca-Cola delivery worker, was not identified.
The third Houston victim was a trucker who drowned when his 18-wheeler went into a deep retention pond.
In San Antonio, a 19-year-old man, identified as David Alexander Diaz, was swept away by floodwaters after he got out of his car. His body was found about three miles downstream.
Searchers in Kendall County found the body of one of two people missing after their pickup truck was washed over a bridge and into a creek just as rescuers tried to pull them out, sheriff's Chief Deputy Matt King said. The victim was identified as Juan Ramon Zaragoza, 48. His son, Juan Pablo Zaragoza, 28, was still missing, King said.
Authorities in San Antonio were still searching for a woman who was caught in high water near a mall.
Copyright 2018 The Associated Press. All rights reserved. This material may not be published, broadcast, rewritten or redistributed. We strive to uphold our values for every story published.