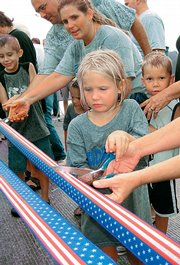 After waiting five months for construction on the Kansas River bridge to end, Perry and Lecompton residents weren't going to let a little rain stop their celebration of the bridge's reopening Friday.
Perry Mayor Mike Lang, Lecompton Mayor Roy Paslay and about 50 people met in the middle of the bridge at 6:30 p.m., just when a downpour stopped, to begin a ribbon-cutting ceremony.
"Without each other we're not much of a town," Lang said.
A Perry-Lecompton High School student played the "Star Spangled Banner" on a saxophone before a red, white and blue ribbon was cut by several people.
People from both of the small communities rejoiced that the inconvenience of driving through either Lawrence or Topeka to reach the other side was over. Lang, who works in Lawrence, said the construction that began in March was hard on both communities.
The bridge was closed for replacement of the concrete bridge deck and some structural steel. A year ago the Douglas County Commission made the controversial decision to close the bridge during the construction instead of leaving one lane open as requested by Perry and Lecompton residents.
"Oh my gosh, I'm so excited," said Lori Jeri who lives in eastern Lecompton. "I don't think there are words to describe it."
She was so happy the bridge was open that she drove across it the other day just for fun when she came to town, she said.
Every weekday she had to drive through North Lawrence to take two of her three children to Lecompton Middle School. Her two sons played baseball so she also had to transport them to games.
Many students had to take a more than 40-minute bus ride to get to the Lecompton-Perry schools. For Breanna Robinson, 15, the commute and high gas prices put an end to her baby-sitting gig, track practices and her social life.
"It was the worst thing that could ever happen in my life," she said.
About 100 or more people were at the Lecompton ballpark to enjoy food, entertainment, music and a home run derby.
The celebration was planned by members of the high school junior class. Several people wore neon yellow and gray T-shirts that read "Bridgefest '07" on the front and "Kaw River Swim Team" on the back.
Proceeds from the event will go to the high school's 2008 prom fund.
Copyright 2018 The Lawrence Journal-World. All rights reserved. This material may not be published, broadcast, rewritten or redistributed. We strive to uphold our values for every story published.