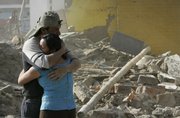 Pisco, Peru — Hungry earthquake survivors ransacked a public market Friday, while other mobs looted a refrigerated trailer and blocked aid trucks, prompting Peru's president to appeal for calm. Aid finally arrived to the disaster zone after about 36 hours without much help.
Few buildings still stood in the fishing city of Pisco on Friday in the wake of a magnitude-8 earthquake that killed 510 people. Many of the structures not reduced to rubble were rickety deathtraps waiting to fall.
President Alan Garcia, on the scene for the second straight day, vowed that no one would die of hunger or thirst.
"I understand your desperation, your anxiety," he said. "There is no reason to fall into exaggerated desperation."
Garcia predicted "a situation approaching normality" in 10 days, but acknowledged that reconstruction would take far longer.
Two sunrises after the earthquake all but leveled this city of 90,000 people on Peru's desert southern coast, workers continued to pull bodies from rubble, the region lacked water and electricity, and officials began to worry about the outbreak of disease.
The death count stood at 510, according to Peru's fire department, and hopes of finding more survivors diminished. At least 1,500 people suffered injuries, and Garcia said 80,000 people had lost loved ones, homes or both.
Brig. Maj. Jorge Vera, chief of the rescue operation, said 85 percent of Pisco's downtown was rubble.
The relief effort was finally getting organized. Police identified bodies and civil defense teams ferried in food. Housing officials assessed the need for new homes, and in several towns long lines formed under an intense sun to collect water from soldiers.
In the capital of Lima, Peruvians donated tons of supplies as food, water, tents and blankets began arriving in the quake zone.
Peruvian soldiers also began distributing aluminum caskets, allowing the first funerals. In Pisco's cemetery, lined with collapsed tombs and tumbled crosses, a man painted the names of the dead on headstones - some 200 were lined up. Grieving relatives lowered coffins into shallow graves.
"My dear child, Gloria!" wailed Julia Siguis, her hands spread over two small coffins holding her cousin and niece. "Who am I going to call now? Who am I going to call?"
All day, people with no way to refrigerate corpses rushed coffins through the cemetery gate, which leaned dangerously until a bulldozer came to knock it down.
Doctors at Pisco's hospital were treating 169 people but failed to save 30 others. Medical services were moved to a basketball court and the damaged hospital building was being used as a morgue, said Dr. Jose Renteros, the physician in charge. Many injured had been flown to Lima.
More aftershocks jolted the region, frightening survivors, who fell to their knees in prayer, but doing little damage. At least 18 tremors of magnitude-5 or greater had struck since the initial quake, which people said pumped the ground in violent jabs Wednesday evening like the pistons of a car engine.
The U.S. government released $150,000 in cash to pay for emergency supplies and dispatched medical teams - one of which was already on the ground. It also sent two mobile clinics and loaned two helicopters to Peruvian authorities.
Copyright 2018 The Associated Press. All rights reserved. This material may not be published, broadcast, rewritten or redistributed. We strive to uphold our values for every story published.