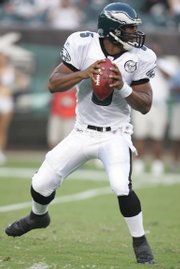 Philadelphia — The way Donovan McNabb is completing passes, it won't matter if he has lost a step.
Playing his first game since tearing a knee ligament last November, McNabb did everything but scramble in the Philadelphia Eagles' 27-10 victory over the Carolina Panthers on Friday night.
The five-time Pro Bowl quarterback put on an aerial display in the first quarter, finishing 6-for-9 for 138 yards, including a 58-yard strike to tight end Matt Schobel. He led the Eagles (1-1) to 10 points on four possessions.
"It wasn't a test for me at all," McNabb said. "I knew I can play this game at a high level."
While McNabb shined, Jake Delhomme struggled for the Panthers.
Delhomme, coming off a subpar season, was 9-for-18 for 78 yards, got sacked three times and threw one interception that was returned 40 yards for a touchdown by Lito Sheppard.
"It's very disappointing," Delhomme said. "I don't even want to say I'm glad it's preseason. I don't know. We've still got a lot more work to do. When we go back and look at tapes, it's not a good feeling. Preseason or not, we played awful."
Wearing a bulky protective brace on his surgically repaired right knee, McNabb hardly needed to escape the pocket. He was flushed out to the right once and threw an incomplete pass. On his final play, McNabb was sacked by Stanley McClover and Thomas Davis. He got right up and walked to the sideline.
"I'd rather sit in the pocket and have (reporters) say I don't run anymore," McNabb joked.
Falcons 13, Bills 10
Orchard Park, N.Y. - Bills quarterback J.P. Losman was given every opportunity to produce a scoring drive, but came up empty. Atlanta's Joey Harrington wasn't much better.
The Falcons pulled out the win when backup quarterback Chris Redman - filling in for injured third-stringer D.J. Shockley - hit George Cooper for a one-yard touchdown pass with 2:38 remaining.
The lone touchdown for Buffalo (1-1) came from third-stringer Trent Edwards, who hit Roscoe Parrish for a 10-yard pass in the third quarter.
Vikings 37, Jets 20
East Rutherford, N.J. - Chad Pennington came out throwing this time - a little too often.
A week after not attempting a pass, the New York quarterback had two ill-advised throws returned for touchdowns in a loss to Minnesota.
Darren Sharper's 40-yard return came on Pennington's third pass, and Chad Greenway later brought one back 16 yards for the Vikings, who took advantage of nearly every mistake by the Jets.
Titans 27, Patriots 24
Foxborough, Mass. - Vince Young might have been better off staying home again.
After being benched for Tennessee's exhibition opener for spending the previous night at his house instead of the team hotel, Young was sacked four times. He also was tackled just short of the goal line on his final play in the Titans' victory.
Vaughn's 22-yard field goal provided the winning points with 1:49 left after New England quarterback Matt Gutierrez scrambled for a touchdown.
Copyright 2018 The Associated Press. All rights reserved. This material may not be published, broadcast, rewritten or redistributed. We strive to uphold our values for every story published.