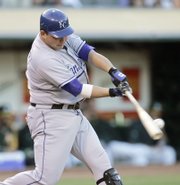 Royals vs Athletics
When: 8:05 tonight
Where: McAfee Coliseum, Oakland, Calif.
Pitchers: Odalis Perez (7-11) vs. Chad Gaudin (9-8)
TV: Sunflower Broadband Channel 6
K.C. record: 54-67 (13 back)
Oakland, Calif. — Emil Brown hit his first home run in over a month, Brian Bannister pitched a four-hitter for his first career complete game and Kansas City Royals beat the Oakland Athletics, 9-2, on Friday night.
Brown's two-run shot, his first homer since July 14, highlighted a four-run rally in the first that gave Bannister all the support he needed. Brown broke an 0-for-12 streak with the long ball and matched the RBI total of his previous 16 games combined.
With the win and Chicago's loss at Seattle, Kansas City moved into a fourth-place tie with the White Sox in the AL Central.
Nick Swisher homered and drove in both runs for the A's, who had a four-game winning streak snapped.
Bannister (9-7) walked one and struck out four while winning for the ninth time in 13 decisions. The right-hander leads all AL rookies with a 3.31 ERA. He's 9-0 when getting at least four runs of support. In his seven losses, he's received run support of one run or less.
Dan Meyer (0-1) lost in his first major-league start and his first major-league appearance in three years. He lasted four innings, allowing six runs - three earned - and five hits. He walked two and did not strike out a batter.
Meyer, part of the trade that sent Tim Hudson to the Atlanta Braves in 2004, last pitched in the big leagues with the Braves in September of 2004.
Mark Grudzielanek also drove in two runs for the Royals, who won two in a row for the first time since winning four in succession July 26-29. Mark Teahan and Billy Butler also drove in runs, helping the Royals win for the fourth time in their last five games in Oakland.
Jack Cust's fielding error in right on Esteban German's flyball to lead off the game helped open the flood gates. Grudzielanek followed with an RBI triple, and Butler doubled in another run. Butler scored on Brown's fifth home run of the season.
Swisher's two-out solo homer in the first put the A's on the scoreboard. Cust followed with a double, but Bannister retired 12 of the next 14 hitters.
Travis Buck doubled to open the sixth and was removed because of a strained left hamstring. Jeff DaVanon ran for him and scored when Swisher grounded out to first.
Teahan tripled in a run in the third and scored on a wild pitch. Tony Pena and Joey Gathright singled in the seventh. Pena scored on another wild pitch, and Gathright scored on Grudzielanek's infield grounder.
Notes: The Royals clinched at least a season series split with the A's, their first non-losing series since 1999. ... DaVanon became the 50th player used by the A's, an Oakland record. ... Bannister has allowed four or fewer runs in 19 of his 20 starts. ... A's pitchers have allowed the fewest home runs (65) in the AL. ... Swisher's home run was the first off Bannister since July 22, a span of five starts.
Copyright 2018 The Associated Press. All rights reserved. This material may not be published, broadcast, rewritten or redistributed. We strive to uphold our values for every story published.