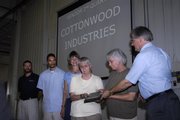 Employees of Cottonwood Industries unpack, collate and repackage 100,000 to 200,000 buckets, containers and other plastic products each year for PackerWare.
So when Cottonwood employees noticed that a pile of products had been affixed with incorrect UPC stickers - the bar codes that tell a distributor where to send the products for ultimate consumer purchase and use - folks back at the plant took notice.
"They found a problem for us - a potential problem - (and) highlighted it to us, corrected it and moved on down the way," said Steve Brown, plant manager at PackerWare, a division of Berry Plastics Group. "It saved both Cottonwood and Berry Plastics a lot of money."
Brown presented Cottonwood officials with PackerWare's Vendor of the Quarter Award during a ceremony Thursday at the plant. Lawrence-based Cottonwood topped about 100 other PackerWare vendors for the award.
Cottonwood has been handling outsourced work for PackerWare for 30 years, and these days anywhere from 30 to 80 Cottonwood employees - workers with varying degrees of developmental disabilities - can be handling jobs for the giant plastics producer.
Brown lauded Cottonwood employees for their outstanding performance, efficiency and attention to detail in all areas of the contract - including catching the error that saved an estimated $20,000.
"It shows that we have very qualified, competent, skilled workers who can get the job done, and that's what our business customers want," said Sharon Spratt, executive director of Cottonwood Inc., the agency that oversees Cottonwood Industries.
Copyright 2018 The Lawrence Journal-World. All rights reserved. This material may not be published, broadcast, rewritten or redistributed. We strive to uphold our values for every story published.