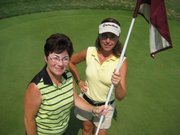 Overcome with joy after checking out the scoreboard posted outside the Lawrence Country Club pro shop, Michele Johnson and Janet Magnuson, two Lawrence friends who doubled as teammates at the Kansas Women's Golf Association's Tee-Fore-Two Championship, shared a hug to celebrate finishing with the low gross score in the tournament's second flight.
"I guess I could cry," Johnson said. "I have no words to describe how happy and proud we are."
Johnson and Magnuson, both LCC members, usually play together Saturday mornings and have been close friends since Johnson moved to Lawrence six years ago.
"We're good for each other," Johnson said.
Magnuson said their third-round score of 77 playing the scramble format was good for them.
"Both of us can hit a long ball, and both of us can chip. We thought maybe we would do better today, but we didn't expect to do this well," Magnuson said, adding that a strong showing on the front nine helped them post a 14-under net score.
"We didn't have any natural birdies, but we had a lot of pars. If I was doing badly, she was doing well, and if she would miss something, I would come back through."
A little home-course advantage didn't hurt the duo, who played with a team from Topeka.
"They definitely could tell that we knew where to hit the ball, and we certainly did have an advantage," Johnson said. "We play so well together."
When they first glanced over the scoreboard, the LCC members thought they had a chance to win the low-net-score competition, but that honor went to Lawrence's Ronda Shepard and Christina Halbert, who belong to Alvamar Country Club.
The tournament's overall winners, however, were out-of-towners. KWGA President Denise Desilet, Wichita, and Penny Hickman, Council Grove, who won the Tee-Fore-Two tourney last year, defended their crown in the championship flight after shooting 1-under in the third round.
Like Johnson and Magnuson, they were unsure of their status when they were on the course Thursday. Hickman said they didn't think they had a chance to win until they looked at the scoreboard upon completion of their round.
"With scramble, anybody could shoot a good score," Hickman, KWGA junior golf chair, said.
Desilet added that the competition is always stiff at KWGA events.
Hickman credited her partner for picking her up after misfires.
"She definitely was the hero today," Hickman said of Desilet. "I was just along for the ride. When I hit it in the water or in the bunker, she would hit it on the green."
Desilet humbly disagreed.
"We were in this together," she said. "It takes both of you. It can't just be one person."
l Results on page 7B
Copyright 2017 The Lawrence Journal-World. All rights reserved. This material may not be published, broadcast, rewritten or redistributed. We strive to uphold our values for every story published.