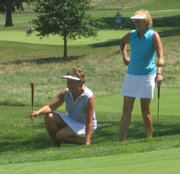 The Lawrence Country Club has been taken over by hunters. Their prey: birdies and eagles.
Wednesday marked the second day of the Kansas Women's Golf Association's Tee-Fore-Two championship, and the course has been closed to members the past few days as KWGA golfers fire shots at the revamped course's fairways and greens.
Tournament site chairperson Bobette Puderbaugh said the event has had a safari theme, but the real gamesmanship is coming on the LCC course, holding a large-scale tournament - 62 two-person teams - for the first time since remodeling.
Response to the courses' changes, Puderbaugh said, has been positive.
"They think it's beautiful," the 19-year club member said of the players' comments. "They think it's a little challenging. The greens are fast and undulating, but they like the course."
Each team got a different look at the course each day because of the 54-hole tournament's format, which required participants to play best ball on Tuesday, Chapman System on Wednesday and scramble during today's final round.
The Chapman System, which not all the golfers were experienced in, calls for each teammate to tee off, and then the two switch and hit their partner's ball for the second shot. After that, they select the best ball and alternate shots.
Michele Johnson and Janet Magnuson, both from Lawrence, adjusted well to the Chapman Style on the second day.
"It's a tricky format to get used to, but once we figured it out we had a good time," Johnson said of their 5-under score Wednesday after shooting 1-under Tuesday.
Magnuson said they are looking forward to today's scramble, which gets under way at 8:30 this morning.
"We get two shots from everywhere," she said of the scramble advantage.
The Lawrence residents were also at an advantage when it came to course familiarity.
"We can read the greens, we know the lay of the land," Johnson said.
Denise Desilet, KWGA president, had not seen the course until Monday's practice round. She said it has been challenging.
"On this course, you have to constantly be thinking and placing your shots," she said. "Some courses, you have two or three holes you don't even have to think about, you hit the ball and you're OK. But here you're constantly having to think."
Desilet, like most golfers, found the 16th to be particularly difficult.
"I told my husband I'm not coming home until I figure out how to play hole 16. It could be awhile," she joked.
Copyright 2018 The Lawrence Journal-World. All rights reserved. This material may not be published, broadcast, rewritten or redistributed. We strive to uphold our values for every story published.