Photo Gallery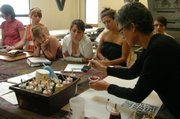 First day of classes at KU
The game on the Kansas University campus Thursday was beat the heat.
With classes opening for the fall semester, thousands of KU students swarmed Mount Oread with at least one goal in mind: Get to class and get inside.
But inside wasn't a refuge for everyone. Heather Dorssom, a junior from Olathe, said that her class in Wescoe "still had the heat on."
"I'm just trying to sit in the shade, read the newspaper and get to classes that are air-conditioned," Dorssom said as set sat on a shaded bench between Wescoe and Budig halls.
Other students were practical about staying cool. Kasey Cullors, a Wichita senior, was hanging out in the Underground, a food court in Wescoe Hall, where the air conditioning was going full-tilt.
"I'm trying to stay inside as much as possible," he said.
With temperatures that have surpassed the 100-degree mark three of the past four days and five of the past ten, staying hydrated was a crucial part of the day.
Jeannie Doering and Kathy Mason, who both work in the office of the vice provost for student success, were manning a KU Info table in front of Wescoe early Thursday. In addition to campus maps and information on bus routes, the two were equipped with two big coolers full of drinks.
"We took the early shift, so we'll be back inside" once it gets really hot," Doering said.
Still, even with the heat, Mason said she was glad that students were back on campus.
"It feels more like a real KU campus," she said.
Even with the heat, though, KU students were ready with plans for serious study this year.
"My plan is to not party as much first semester so I can study more," said Irina Stolyar, an Overland Park freshman. "I figure if I can get through that, I should be OK."
Fellow freshman Alex Cleeter of Plano, Texas, was a bit less certain.
"I'm getting a lot of basic classes out of the way," Cleeter said as he waited outside for his 9:30 a.m. class to start. "I really have no idea what I'm getting myself into."
Copyright 2018 The Lawrence Journal-World. All rights reserved. This material may not be published, broadcast, rewritten or redistributed. We strive to uphold our values for every story published.