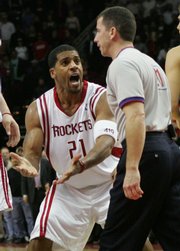 New York — Tim Donaghy started making NBA bets four years ago, and he didn't hesitate to wager on games he worked.
Speaking in code during telephone calls, he tipped off high-stakes gamblers with inside information and recommended which teams to bet on. When his picks hit, he was paid $5,000.
The stunning allegations emerged Wednesday as the disgraced former NBA referee pleaded guilty to two felony charges in a scandal that rocked the league and tarnished the integrity of the sport.
"By having this nonpublic information, I was in a unique position to predict the outcome of NBA games," Donaghy, standing ramrod-straight with his hands clasped in front of him, told the judge in a Brooklyn courtroom.
Donaghy, who was released on $250,000 bond, faces a maximum of 25 years in prison when he is sentenced Nov. 9 for conspiracy to engage in wire fraud and transmitting betting information through interstate commerce. He also must pay a $500,000 fine and at least $30,000 in restitution to the government.
Commissioner David Stern said the NBA would "continue with our ongoing and thorough review of the league's officiating program to ensure that the best possible policies and procedures are in place to protect the integrity of our game."
Defense attorney John Lauro told the Associated Press that Donaghy was "relieved this part of the proceeding is over, and we look forward to completely resolving this matter in the coming months."
"Tim deeply regrets his involvement in this matter and especially the pain it has caused his family, friends and co-workers," Lauro said.
The plea had been widely expected in recent weeks, but court documents released Wednesday revealed new details about the depth of the scandal.
Court papers say the 40-year-old Donaghy began placing bets on NBA games in 2003. Starting last December, he began giving gambling associates sensitive information, including which crews would officiate games and how the various officials and players interacted.
His actions "compromised his objectivity as a referee because of his personal financial interest in the outcome of NBA games," the government said.
It was highly lucrative for Donaghy.
While in Toronto, Phoenix and Washington, D.C., to referee games earlier this year, Donaghy received thousands of dollars in cash payoffs from the gamblers, authorities said.
Copyright 2018 The Lawrence Journal-World. All rights reserved. This material may not be published, broadcast, rewritten or redistributed. We strive to uphold our values for every story published.