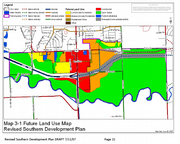 Related document

Revised Southern Development Plan ( .PDF )
Drafts plotting future development around southern and southeastern Lawrence are being well received by Lawrence and Douglas County leaders.
Commissioners from the two governments met Wednesday morning to review the plans with the Lawrence-Douglas County Planning Commission and the planning staff.
The southern plan designates much of the area around the Wakarusa River as open space within the 100-year floodplain. It also envisions commercial areas along U.S. Highway 59, south of 31st Street; low- and medium-density residential developments would fill in much of the rest of the space between 31st Street and the Wakarusa River.
"I do like what I see," City Commissioner Mike Dever said. "Although they are just colors and shapes on a map right now, I have looked over that area and tried to match up with what is currently there and what is proposing to be there, and I think that is important. You look at current land before you start dictating future land use."
The southern development plans include mostly areas south of 31st Street. The southeastern area plan covers an area between O'Connell Road and East 1750 Road - mostly industrial and multi- and single-family residential uses.
The southern development plan covers 2,038 acres with the largest areas for open space and potential park developments and vacant farmland. The southeastern plan covers 1,200 acres.
The Planning Commission will go over the proposals, and, once approved, each will be forwarded to the city and county commissions.
The maps and the proposals can be found online at the planning department's Web site at www.ci.lawrence.ks.us/planning/.
Both plans are revisions of earlier documents. The original southern development plan was adopted in 1994 by the City Commission. The new version updates the plan boundaries and takes into consideration existing facilities and transportation routes. The southeastern area plan was rejected by the city and county commissioners because it extended commercial and industrial land too close to residential areas.
County Commissioner Charles Jones said that while he generally liked the plans, he noted the need for additional transportation planning. Routes need to be developed that would take traffic south out of western Lawrence beyond the existing western leg of the South Lawrence Trafficway, he said. Major streets such as Kasold Drive and Wakarusa Drive, for example, do not extend that far, he added.
City Commissioners Boog Highberger and Dever agreed. The latest plans don't adequately address the southern route question, and that is something the city's Transportation 2030 Committee will have to address, Highberger said.
Waiting and planning later means increased costs, especially in building and maintaining bridges, Dever said.
"We need to be concerned about moving people across the Wakarusa River if we are going to extend development to the south," Dever said.
Copyright 2017 The Lawrence Journal-World. All rights reserved. This material may not be published, broadcast, rewritten or redistributed. We strive to uphold our values for every story published.