Photo Gallery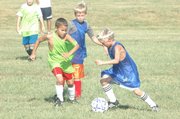 Game
During Tuesday's sweltering scrimmage of the Kaw Valley Force U9 soccer squad, 8-year-old Brennan Davies found what he was looking for. After taking a pass, he split the defense, charged toward the net and beat the keeper for a goal.
But before he knew it, the goal was called off.
The offside flag went up.
That flag signified what is perhaps the most misunderstood rule in the game of soccer: A player is prohibited from playing the ball if he or she is beyond the last line of defenders on the attacking half of the field before the ball is passed.
Many strangers to the game often equate the rule with soccer's low goal output, scoffing at the notion that a seemingly sure goal by a breakaway player has been called back. But according to Kaw Valley soccer coach Mauro Nobre, the opposite is true.
"If there was no offside," Nobre said, "then if there was one attacking player or several back by the goal waiting for the ball, then the defense could just put a defender back there and another and another. There wouldn't be more goals, instead there would be just long kicks like ping-pong back and forth."
Learning such a fundamental rule in soccer is critical for young players beginning the game.
"It's important for them to learn it from an early age," Nobre said. "And they get it. It makes their play more creative. They can play better with their teammates if they understand the rule."
For some, remembering the rule and using it to their advantage was not an issue.
"For me it was easy," Kaw Valley Force U9 player Will Laufer said.
For others such as Laufer's teammate Jordan Patrick, that wasn't the case.
"It was pretty tough the first time," Patrick said. "But after we did it a few times I got the hang of it."
Even though players such as Laufer and Patrick have grasped the idea of staying onside, that knowledge hasn't always kept them from getting a little ahead of themselves.
"There was a game where I was running down the sideline," Laufer said. "And I shot it in. The goal was right there and the goalie was behind me and everything. But the flag went up."
Copyright 2018 The Lawrence Journal-World. All rights reserved. This material may not be published, broadcast, rewritten or redistributed. We strive to uphold our values for every story published.