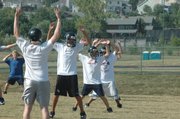 Southwest Junior High freshman football coach Skip Bennett watched as his players, helmets in hand, trudged across the fields behind the school on their way to the first day of practice.
Each walked as if he carried a boulder from the Clinton Lake dam on his back as the heat pressed down.
Bennett, witness to many of these scenarios, had some thoughts.
"I don't blame them," Bennett said. "I played too, and it's hard to get out here when it's like this."
But Bennett is the coach, and all sympathy aside, he has a job to do.
"As their coach," Bennett said, "I have to find out what we have and do it in a realistic way."
Practices opened for all four city junior high schools Monday, and with temperatures reaching triple-digits once again, many challenges arose.
Not only do Bennett and the other coaches across the city have to battle with the heat, they also battle with what it does to their players mentally.
"You have to balance their attention span when it's like this," Bennett said. "I think today we talked about things just long enough to get it through to them and begin to lay a good foundation."
On Monday, coaches found ways to combat the heat as well as get things accomplished on the seasons' official first day.
Central coach Scott Petry chose to go ahead with an afternoon practice despite the oppressive heat. His reason: the players' own good.
"In this day and age, it's important to get the kids outside," Petry said. "I could adjust the practice and do it at 6 o'clock (in the morning), but we play at 4 in the afternoon. It's very possible that we could play in heat, maybe not like this, and if we're out in this heat getting acclimated, then when we come across weather that's not as hot as this, then we should be fine."
Another element to each school's practice is the newness factor.
That is, eighth-graders.
Each school sports an eighth-grade squad that practices, if not alongside then relatively close to, the freshman team. And that can be intimidating to some, especially those who are playing the sport for the first time.
"One of the first things we tell them (eighth graders) is that their playing experience doesn't matter at all," Bennett said. "There have been many players who didn't start playing until their sophomore year and turned out just fine."
That said, those same eighth graders can't expect to be treated differently.
"We have the same expectations of the eighth graders as we do the ninth graders," Petry said. "We really don't separate them out in terms of what we expect out of them."
For those new to the game as well as those returning freshman, acclimation seemed to be the key word of the day.
Petry said for the eighth graders it was important to get them acclimated to wearing a helmet in the heat. For the freshmen, it was getting acclimated to new and more complex plays.
Petry, though, hopes the acclimation process does not end after the first day.
"I'd like to think of it as a process that will go on the entire season," Petry said.
Copyright 2018 The Lawrence Journal-World. All rights reserved. This material may not be published, broadcast, rewritten or redistributed. We strive to uphold our values for every story published.