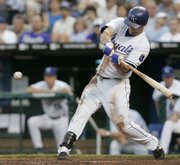 Kansas City, Mo. — Leo Nunez is slowly changing the way the Kansas City Royals are thinking about using him.
Nunez was a starter in the Pittsburgh Pirates' farm system before the Royals acquired him in a trade after the 2004 season, promptly moving him to the bullpen. But he has thrived making spot starts this season for Kansas City.
Nunez combined with two relievers for a four-hitter, and Alex Gordon went 3-for-3 with a two-run homer as the Royals defeated the Toronto Blue Jays, 4-1, Saturday night.
"We look at (Nunez) as more of a bullpen guy," Royals manager Buddy Bell said. "But he's starting to change my mind. I'm getting there. He deserves a few more chances - certainly more than a few - to start."
Nunez (2-0), who will turn 24 Tuesday, has allowed only one run in 11 innings in his past two starts, both wins, and lowered his overall earned-run average to 1.80.
"I'm feeling really comfortable starting after doing it in Triple-A," Nunez said through an interpreter. "I want to keep doing it, but I'll take whatever they give me. As a reliever, I'd use my fastball and could hit 98 (mph) for one inning. As a starter, I'm trying to hit my spots and keep the ball down."
Nunez, who was making his third big-league start after being used strictly as a reliever the past two seasons, gave up one run and two hits in five innings. He matched a career-high with four strikeouts and walked three.
"Every time he's been out there, he's been lights out," Gordon said. "He's been doing it all for us."
Gordon, who missed hitting for the cycle by a double, drove a 2-1 pitch from Dustin McGowan into the right-field fountains with Billy Butler aboard and one out in the sixth.
"I think the whole time I was being patient, just waiting for my pitch," Gordon said. "He gave me a couple to hit, and right there he gave me another one and I put a good swing on it."
Gordon did not get a chance for the cycle, ending the eighth inning in the on-deck circle.
Joakim Soria got the final four outs for his 13th save in 16 opportunities, but needed a bit of help from Joey Gathright to end the game. After Troy Glaus's double, Aaron Hill drove a pitch to left that Gathright pulled in from above the outfield wall.
"They said it would have been out," said Gathright, who had two hits, two stolen bases, an RBI and scored a run. "There was a lot of pressure on this jump."
Soria tops all major league rookies in saves.
Gordon led off the two-run fifth with a triple to the warning track in left-center that glanced off the glove of Vernon Wells. Gordon scored on Gathright's one-out single to shallow center. Gathright stole second and moved to third on a passed ball when Tony Pena Jr. struck out, then scored the go-ahead run on David DeJesus' sacrifice fly.
McGowan (8-6) lost for the first time since July 13. He was 3-0 with a 1.59 ERA in his previous four starts. McGowan, who retired 11 on ground balls, also lost for the first time in five starts in which he recorded at least 10 ground-ball outs.
"Gordon hit a fastball down the middle when I fell behind 2-and-1," McGowan said. "I was trying to get the count back in my favor."
McGowan gave up four runs, three earned, and six hits in 6 1-3 innings, while striking out four and walking one before being replaced by Brian Tallet.
Gregg Zaun homered with two out in the fifth for the only Blue Jays run.
"I don't think one game is going to change the feeling we've had in the clubhouse the last two or three weeks," Zaun said. "We ran into a good pitching performance tonight from a youngster."
Wells doubled with one out in the fourth, and Glaus snapped a career-worst 0-for-27 stretch with a seventh-inning single off David Riske.
Notes: The Blue Jays have logged a double in 18 straight games, the longest active streak in the majors. ... RF Mark Teahen and Gordon each stole a base and are tied for Royals' lead with 11. The Royals stole five bases, a season high. The last time they swiped five in a game was June 19, 2004, against Philadelphia.
Copyright 2018 The Associated Press. All rights reserved. This material may not be published, broadcast, rewritten or redistributed. We strive to uphold our values for every story published.