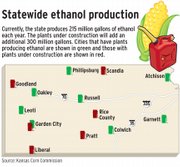 Ethanol has been touted as the fuel of the future.
Made with a renewable resource - mostly corn - vehicles running on ethanol will help the environment, put money in the pockets of family farmers and reduce the United States' dependence on foreign oil, its proponents say.
"I think it's a good thing for everybody," said Lawrence farmer Pat Ross, who feeds his livestock a high-protein byproduct of ethanol production.
But ethanol is coming under increased scrutiny.
Some are concerned that the recent increase in corn crops used to make ethanol will further deplete dwindling groundwater reserves, and increase the use of fertilizers that run off into waterways and kill aquatic life.
"There are huge hidden costs," said Ken Warren, managing director of the Land Institute, a Salina-based research organization that supports sustainable agriculture.
In the long run, he said, the amount of energy needed to make and transport ethanol exceeds the energy produced. "It depends on how you want to do the accounting," he said.
Ethanol pumped up
Regardless of the debate, more Kansas farmers are joining the effort to produce ethanol.
There are 3.7 million acres of corn being grown in Kansas this year, about 8 percent more than last year, according to Kansas Agricultural Statistics.
"Corn is increasing primarily because of the demand of ethanol," said Eldon Thiessen, director of the agricultural statistics office.
Ethanol is produced by fermenting food crops, such as corn, and grain sorghum.
Ethanol production plants are popping up all over Kansas. Ten years ago, the state produced approximately 20 million to 25 million gallons of ethanol per year. Now, 215 million gallons are produced per year, and plants under construction will add another 300 million gallons to that number.
"It has been really good for our state and the Midwest in general," said Sue Schulte, a spokeswoman for the Kansas Corn Growers Association.
Ethanol vs. oil, water
To that, Kansas University geology professor emeritus Ernest Angino says ethanol couldn't compete with other fuels without its governmental subsidies and protections that total roughly $1 per gallon.
"It's popular now because the government gives a huge subsidy to produce it. It's not competing on a level playing field," said Angino, who taught an energy and minerals resources course for decades.
But Schulte said oil also receives subsidies. "It's not like this is the only subsidized fuel in the stream," she said of ethanol.
Warren, with the Land Institute, said one of his major concerns is that ethanol provides an enticement to ratchet up irrigation of corn crops. He said he had heard about irrigators in western Kansas deciding to dryland farm (no irrigation), but when the price of corn started going up "they were back in business."
Schulte said there is plenty of water available.
Only about half of the corn acreage in Kansas is irrigated and the other crops, such as grain sorghum, which is generally a dryland crop, are also being used to produce ethanol, she said.
Energy producer?
The amount of energy to produce ethanol and transport it also is often cited as demerits for the fuel. It's also the subject of numerous conflicting studies.
A 2005 study by scientists from Cornell and University of California-Berkley said ethanol production using corn grain "required 29 percent more fossil energy than the ethanol produced."
But ethanol supporters cite other studies.
Schulte pointed to a U.S. Department of Energy study conducted in 2005.
The report states that the fossil energy put into growing corn for ethanol is lower than the amount of energy produced - 0.74 million British thermal unit fossil energy consumed for each 1 million Btu of ethanol delivered. That was much more efficient than gasoline, the study concluded.
The study notes that some of the energy used to produce ethanol is "free solar energy used to grow corn in the first place."
Greg Krissek is director of government affairs for ICM Inc., a Colwich-based company that is involved with the development of approximately 60 percent of the ethanol plants in the country.
Krissek said ethanol helps the environment because it's a cleaner burning fuel than gasoline and it takes less energy to produce.
The most common blend of vehicle fuel with ethanol is called E-10, which is 90 percent gasoline and 10 percent ethanol.
About 145 billion gallons of gasoline is used in the United States per year. Two years ago, ethanol represented 3 billion gallons of that amount; now it is 6 billion and is expected to double in two more years, Krissek said. Kansas ranks seventh in the nation in producing ethanol, with Iowa and Illinois leading the pack, Schulte said.
"We see a tremendous impact in the community where the plant is being built," Krissek said. "You may be looking at $80 million to $160 million in construction costs and that helps local suppliers and we usually use local labor."
When the plant is finished, he said, "you have a $100 million to $200 million revenue generating company."
He said the development of ethanol is crucial, not only for the rural economy and environment, but to help quench the nation's increasing demand for fuel.
"The farmer has responded to this demand," he said.
To Ross, the Lawrence farmer, ethanol is a win-win for the taxpayer and farmer.
The demand for ethanol has raised the price of corn, he noted.
"That helps out the American farmer so they don't have to be subsidized so much," he said.
Copyright 2018 The Lawrence Journal-World. All rights reserved. This material may not be published, broadcast, rewritten or redistributed. We strive to uphold our values for every story published.