Whether it's sliding from outside to middle linebacker, shifting from another defensive position or switching sides of the ball completely, Kansas University's football defenders seem to have excessive experience elsewhere on the field.
KU's coaching staff has never been afraid to tinker with its toys. A lot of moves have paid off - Nick Reid going from quarterback to linebacker was a great success, and Charles Gordon's flip-flopping between receiver and cornerback worked well for wherever he was at that moment.
With that in mind, more shuffling is in the works this year, a nonstop brainstorming that will continue until everything fits. The post-spring depth chart featured four players who were at different positions a year ago. Another five have played elsewhere at some point in their careers, and at least one other was recruited to play a different position.
The most intriguing example this year is Maxwell Onyegbule, a 6-foot-4, 240-pound defensive end, Onyegbule played two games last year - while working as a linebacker - before sitting out the last 10 and taking a red shirt.
While weight gain wasn't sorely needed out of Onyegbule - he already weighs more than former KU standout Charlton Keith did - the Arlington, Texas, native wasn't a finished product since linebacker was all he knew coming out of high school.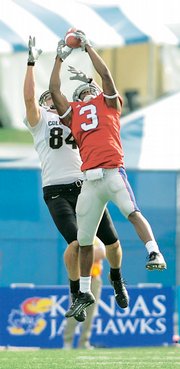 "It's just technique and fundamentals," KU head coach Mark Mangino said. "He's used to playing in a two-point stance. Now he's in a three-point stance."
Onyegbule isn't alone adjusting to a position switch up front. Fellow end Russell Brorsen played his true freshman season as a tight end before going back to defense, where he's now projected to start after getting the call eight times last year.
Todd Haselhorst, a projected starter at defensive tackle, has split his college career between the offensive and defensive lines.
Now back on defense, Haselhorst has another thing going for him - his health. Two shoulder surgeries wrecked his 2005 season and pretty much shut him down for most of '06, too. Now back to 100 percent, Haselhorst worked extensively at getting in shape to make an impact for this year's team.
"I'm going to play a big role this year," Haselhorst said. "This is going to be my first actual full season of starting and being able to contribute as much as I've wanted to."
Added Mangino: "It would be a big boost to our defensive line to have him ready to play this season."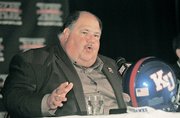 Haselhorst will try to a form an interior 1-2 punch with All-Big 12 candidate James McClinton, a senior and rare player who HASN'T seen at least practice reps elsewhere on the field.
Another Texan, McClinton had 51 tackles and 141â2 stops for a loss last year - big numbers for a defensive tackle, whose job description at KU is more of clogging lanes and setting up defensive ends and linebackers.
McClinton is by far the most experienced player on KU's defense, but the Jayhawks have a lot more returning starters than they did a year ago.
For one, KU has a legitimate All-America candidate in cornerback Aqib Talib (a former strong safety). Talib had six interceptions and 22 pass breakups in just 10 games last year, and earned preseason All-America honors by Playboy and Phil Steele magazines this summer.
Talib put up the giant numbers despite being avoided for much of last year, a consequence of having little depth at cornerback in 2006. That's improved, thanks to the signing of junior-college transfer Kendrick Harper (a former wide receiver), junior Gary Green (a former running back) and Anthony Webb. The safety position will be led by sophomore Darrell Stuckey at free, while juco transfer Patrick Resby and junior Tang Bacheyie (a former running back) are competing for the strong-safety job.
As for the glue in the middle, Joe Mortensen took a slight lead at middle linebacker after spring ball (he's a former outside linebacker), with junior Mike Rivera hot on his heels. Outside linebacker seems unsettled, too, though James Holt (a former safety) and Arist Wright are on top of the depth chart over Olaitan Oguntodu (a former safety) and Jake Schermer.
Holt still looks a bit like a safety, standing 6-3 and listed at 220 pounds. Mangino said he'd like to get Holt up to about 228, and added that Holt's intense preparation in the offseason should make it happen eventually.
"His work ethic is what gives him a chance to be a good player," Mangino said. "He cares a lot. He works hard at it.
"I would say that a player's attitude and work ethic make up about 70 percent of his success. There's a lot of talented people out walking in the streets because of that."
Holt broke his foot in the preseason last year and missed four games. The last eight games suffered as a result, though Mangino said the injury is well behind Holt now.
"He's doing a great job," Mangino said. "He's really starting to develop a knack at that position."
Developing a knack. Precisely what the coaches go for when moving a player here, or sliding him over there like the KU staff constantly does. With a few more transitions being smoothed out this summer, the jury's out once again.
It always seems to be.
Copyright 2018 The Lawrence Journal-World. All rights reserved. This material may not be published, broadcast, rewritten or redistributed. We strive to uphold our values for every story published.