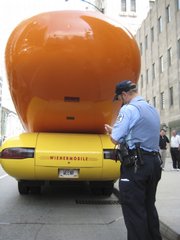 Chicago — Not even a giant hot dog can escape the long arm of the law.
One of the Oscar Mayer Wienermobiles, a fiberglass behemoth on a national promotional tour, was discovered parked illegally - hazard lights blinking - on a major downtown street.
The violation in a no-parking zone on ritzy Michigan Avenue earned the driver of the 27-foot sausage a $50 ticket.
"The situation was resolved without the use of ketchup, which in Chicago is a big thing," said Matt Smith of the city's Streets and Sanitation Department.
The officer who issued the ticket had already called a tow truck when the driver showed up to claim his fiberglass wiener-on-wheels. "We have access to tow trucks that could have handled a Polish sausage, not just a hot dog," Smith said.
Sydney Lindner, a spokeswoman for Oscar Mayer parent company Kraft Foods Inc., said the Wienermobile, one of several, is traveling the country promoting a contest to sing the Oscar Mayer jingle in a commercial.
She said illegal parking is against company policy, "even if you're driving a company vehicle that's shaped like a giant hot dog."
Copyright 2018 The Lawrence Journal-World. All rights reserved. This material may not be published, broadcast, rewritten or redistributed. We strive to uphold our values for every story published.