It surely can be argued that no position on Kansas University's football team has been as consistently rock solid the last four years as center.
The 2003 and '04 seasons featured Joe Vaughn, who certainly had NFL talent if only he were bigger. The '05 and '06 teams had David Ochoa, an All-Big 12 selection forever complimented for his toughness and leadership.
And now, junior Ryan Cantrell is slipping on the shoes. By now, they're as big as islands.
"There's a lot of responsibility," offensive line coach John Reagan said, "in his situation."
Yet, Reagan and most everyone in the program feels Cantrell is a solid successor to the throne. At 6-foot-3 and 290 pounds, Cantrell is bigger than both Vaughn and Ochoa. He has starting experience, though it was at guard. And outside of his brief move to the right, Cantrell has been raised to snap the football since he was a peewee.
"The first time I ever played guard in my football career was against Colorado in that first start I had (in 2005)," Cantrell said. "I played center ever since middle school. I'm a lot more comfortable at center."
Cantrell assumes the leadership role of an intriguing offensive line - no one will be starting in the same spot as last year, but three of the five have significant experience.
Cantrell started five games at right guard as a red-shirt freshman in '05 before playing sparingly last season. Right tackle Cesar Rodriguez has started 30 games in his career, though the last 24 have been at left tackle. Anthony Collins, shifting from right tackle to left tackle, has 13 career starts and a promising future ahead of him.
Junior-college transfer Chet Hartley and junior Adrian Mayes are frontrunners for the guard positions.
It's a lot of shuffling that, on the surface, may appear unsettling. But everyone insists it's going smoothly.
"It's great," Cantrell said. "No disrespect to any of the lines we've had here in the past, they've all been really good. But we're probably the strongest and fastest we've ever been. Everybody communicates, everybody's on the same page all the time. We're all on the same brain wave. It's incredible."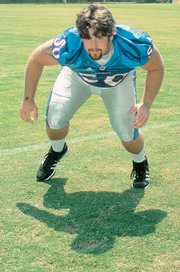 Still, Cantrell knows he plays a big role in keeping it that way. He said that the tweaked offense under new coordinator Ed Warinner adds a few new responsibilities to his platter, and that's on top of what's already expected of him.
"In any offense, there's a huge responsibility on the center," Reagan said. "There's four other guys on the offensive line that are absolutely counting on him to make calls and set them up. He's the only one who can see the whole picture."
Cantrell has seen the position performed well. He was a red-shirt when Vaughn was finishing his career, and he watched Ochoa build a fine resume the two years after that.
He learned a thing or two from them. And while he's not discounting the intangibles he needs to thrive, he understands that the bottom line isn't that complicated at all.
"Just play," Cantrell said. "Play to the best of your ability, and that's usually good enough."
Copyright 2018 The Lawrence Journal-World. All rights reserved. This material may not be published, broadcast, rewritten or redistributed. We strive to uphold our values for every story published.