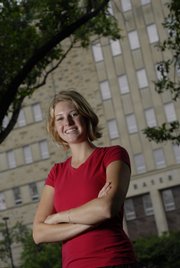 Hannah Love calls it the "million-dollar question."
This year's Kansas University student body president can cite a number of statistics nationwide about declining civic involvement, mostly voter participation.
So here's the Dodge City senior's question: "How do you change that? How do you engage people?"
She has some experience with those issues. During Love's three years in the KU Student Senate, she has impressed one faculty member with her leadership style.
"It wouldn't surprise me to see Hannah be a future governor of the state of Kansas," said KU journalism professor Bob Basow.
She comes from a political family. Her father, Daniel, is the chief district judge for the 16th Judicial District of Kansas, and her mother, Beth, has served two terms on the Dodge City school board.
She still remembers not being sure if she wanted to seek a Student Senate seat as a freshman until she created " Vote Love for Student Senate" posters with her mother during Labor Day weekend.
Love won, and three years later, after running on the United Students ticket in the April election, she will be the first female student body president in more than a decade since Kimberly Cocks was elected president in 1995.
"I guess I've always believed that one individual can create change, and this is one of the avenues," Love said.
Agenda, issues
Her summer schedule was packed as she and fellow executives prepared for the start of the Senate's business this fall.
"We want to be a very productive organization so we can move on to other things," Love said.
In between having her wisdom teeth taken out in June and visiting a graduate school in Indiana, Love spent much of her summer weekdays in her Kansas Union office and attending different meetings on campus.
On most days, her schedule was set to the hour, as she met with other student executives to discuss progress on their research of various issues.
Vice President Ray Wittlinger, an Overland Park senior, said they are focusing mostly on campus safety and academic issues. The pair ran on a platform of improving parking and lighting on campus, particularly outside women's residence halls.
Love said they also were researching an agreement with Microsoft to allow students to opt-in and buy software packages at a lower price. The University of Texas has done something similar.
"We are looking at that program and seeing what parts of it we can implement here," she said.
Many in university governance circles know Love for her work on a student, faculty and staff task force to study the price of textbooks. After hearing from researchers, students, professors and publishers, she proposed a Senate-funded plan that would allow the KU libraries to carry copies of introductory course books. It would allow students to sell back their textbooks but also have some place where they could find a copy of the book if they needed to use it later in their careers.
"She really waits to understand a complicated problem from every aspect, and then contributes to the big picture," said Basow, who co-chaired the task force with Love. "She is able to see the big picture, and she recommends solutions that others had never thought of."
The bill failed during a spring Senate vote, but Love said she was studying how to adjust it before reintroducing it this fall.
A compromiser
Her colleagues say the textbook task force shows Love's style of hearing all sides and seeking advice before making a decision.
"It wasn't ever about herself. She still believes that and still works with that mindset every day that she's in office," Wittlinger said.
Pat Kells, a Lawrence resident and retired executive director of the Kansas Volunteer Commission, became friends with the new student body president while Love was a junior in high school. Kells remembers how diligently Love worked on a presentation on how to develop youth and government programs.
"She talks not just to people that share her viewpoint, but she really seeks out and listens to others," Kells said.
Love said it benefits everyone to involve all parties before making a major decision. Her favorite accomplishment as a student senator is helping pass a $1.50 student fee for multicultural education through a referendum.
Wittlinger said Love has always had a good working relationship with members of the other major Senate party, Delta Force. Love and Wittlinger's party has a 32-27 advantage in Senate seats going into the fall, but Love has dismissed it as a competition.
"We're all here for the best interest of the students," she said.
As a sociology major, Love says her role, as the first female student body president in 12 years, will also be tricky.
"A lot of leadership qualities are judged based on androcentric values," she said.
She's found it's easy for others to perceive her as being too pushy if she comes off straightforward or possibly unintelligent if she's not.
"It's always a struggle to find that middle," Love said.
Copyright 2018 The Lawrence Journal-World. All rights reserved. This material may not be published, broadcast, rewritten or redistributed. We strive to uphold our values for every story published.