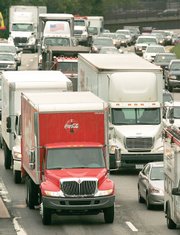 Washington — Just like Americans themselves, the nation's roads and bridges are carrying much more weight today.
Added to an aging and deteriorating highway system, it means more safety problems, delays and repair costs for drivers, experts said.
In just a decade, from 1995 to 2005, the weight load on urban highways increased by half. Since 1970, the weight carried on rural highways has gone up nearly 7 1/2 times, according to Federal Highway Administration statistics.
And it's not just more traffic. It's the heavier trucks.
"The number of trucks and the number of heavy trucks have gone up dramatically since 1965," said Mark Hallenbeck, director of the Washington State Transportation Center at the University of Washington.
"The warehouses that used to fill up are now driving down the road next to you," he said.
And that, he added, is "beating up" American roads.
The number of tractor-trailer truck miles driven on American roadways has well more than doubled to more than 145 billion miles a year since 1980, increasing faster than the rate of smaller trucks or cars, according to federal statistics.
"If we're doubling our loads, we need to look at our infrastructure to be able to carry that," said James Garrett, co-director of the Center for Sensed Critical Infrastructure Research at Carnegie Mellon University. "We need to ask the questions."
That's why some engineering experts speculate that the wear and tear over the years of heavier loads could be one of the factors that triggered the collapse of the interstate bridge in Minneapolis last week.
More weight wouldn't be a problem if the highway system was regularly and adequately maintained because well-kept roads and bridges can handle the added weight, said University of Texas civil engineer professor C. Michael Walton.
The American Society of Civil Engineers gave the nation's roads a "D" grade and the bridges a "C" grade in 2005. One of the factors was the increased weight, said John E. Durrant, the society's managing director of engineering programs. Extra weight from increased truck traffic over time will push a bridge that's already susceptible to fatigue "to reach the end of it's life sooner," he said.
Clayton Boyce, a spokesman for the American Trucking Association, said it is unfair to single out trucks.
"Yes, it is an increase in traffic and, yes, it's an increase in cumulative weight, but there has been a similar increase in the number of automobiles," Boyce said.
Mark Berndt, chairman of the truck weight committee for the National Academies of Sciences' Transportation Research Board, said the United States has some of the strictest weight limits of any industrialized nations, limiting trucks on the federal interstate system to 80,000 pounds, a limit that has been around for decades. State roads, however, can allow heavier trucks.
Trucks in Europe can go up to 97,000 pounds and Canada and Mexico allow up to 100,000 pounds, he said.
Berndt, who recently studied rural Minnesota truck traffic, said that mostly farmers who used to drive small trucks are now using bigger and heavier tractor trailers.
America is gaining a great economic advantage by using more and heavier trucks, said Walton. But the next step is to take just part of the cost savings and translate that into fixing roads and bridges, he said.
Boyce said his trucking group supports an increase in gasoline tax as long as it is targeted to fixing roads.
"We've gone too long really making just incremental improvements to the interstate program. We haven't kept up with maintenance," he said.
The collapsed Minnesota bridge had no weight limits but was categorized as structurally deficient, one of over 73,000 U.S. bridges with that designation last year. The federal government usually places bridges that have weight limits on the functionally obsolete list, which includes another more than 80,000 bridges.
Copyright 2018 The Associated Press. All rights reserved. This material may not be published, broadcast, rewritten or redistributed. We strive to uphold our values for every story published.