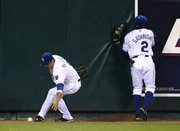 Royals vs Blue Jays
When: 6:10 tonight
Where: Kauffman Stadium, Kansas City, Mo.
Pitchers: Leo Nunez (1-0) vs. Dustin McGowan (8-5)
TV: Sunflower Broadband ch. 6
K.C. record: 50-64 (14 back)
Kansas City, Mo. — Shaun Marcum's right arm was better than his right leg Friday night.
Marcum carried a no-hitter into the seventh inning, then left with a cramp in his right calf, before the Toronto Blue Jays held on to beat the Kansas City Royals, 2-1.
Marcum left after Billy Butler's infield single with two outs broke up the no-hit bid. He was led off the field by trainer George Poulis on a hot, humid night - 94 degrees when the game started with a heat index of 103.
"The main thing is we won," Marcum said. "I wanted to stay out there, but you always take a chance of getting hurt. I was cramping up there about the fifth inning and kind of exhausted. I was tired after I warmed up. We haven't had any heat like this in Toronto. The heat got to me. Other than that, the main thing was to try to stay hydrated and not pass out. I kept pounding fluids and tried to stay out there."
The right-hander has thrown at least six shutout innings in seven of his 14 starts.
"He's been doing this all year, that's no exaggeration," Blue Jays manager John Gibbons said. "We weren't going to risk anything. One injury could lead to another. It was hot - it was smoking."
Marcum (9-4) had walked two and hit a batter before Butler's single. Shortstop John McDonald made a diving stop of it, but lost control as he attempted to throw.
"I'm disappointed in myself for not being able to get a good throw off," McDonald said. "We knew it was a no-hitter. I wanted to get it and get it in the air as fast as possible. I was throwing regardless."
Said Butler: "Marcum didn't miss a spot today. Wherever he wanted to put it, he was there. I hit it better than it sounded."
Blue Jays catcher Gregg Zaun said Marcum had trouble gripping all his pitches because the ball was moist with the humidity.
"After the first hitter or two, I went out to the mound and he said, 'Dude, I'm having trouble gripping anything but the cutter,' so we kept throwing it and throwing it," Zaun said. "We'd mix in a change up. We were hoping his hands would dry off at the end of game, so he could start throwing curveballs and mix in straight fastballs, but he never got a good grip on the ball, so we kept just throwing the one pitch he could grip."
Vernon Wells broke a scoreless game with a double to the left-center gap in the sixth, scoring Lyle Overbay and Alex Rios, who led off the inning with singles.
Royals right-hander Gil Meche (7-10) was pulled after Wells' hit. Meche, who has lost four straight starts, gave up two runs on seven hits while striking out five and walking none.
"We couldn't get to Marcum and they got to me," Meche said. "I left a couple pitches up, gave them a chance to put it in play and they did it. I haven't been making pitches when I need to like I was early in the year."
Jeremy Accardo pitched the ninth for his 21st save in 25 opportunities.
Marcum threw six no-hit innings against Tampa Bay on May 13, his first start of the season, but was pulled because his pitch count reached 78. He received a no-decision when the Devil Rays rallied for a 2-1 win.
He began the game by walking David DeJesus on a full count, ending a streak of 22 innings and 89 batters without issuing a walk. Marcum's previous walk was in the fourth inning on July 18 against the New York Yankees.
In the fifth, Marcum walked Butler on four pitches. He hit Mark Grudzielanek with a pitch in the fourth for the only other base runners he would allow.
The Royals got on the board in the eighth, when Alex Gordon led off with a double down the left-field line off Casey Janssen. Gordon advanced to third on a wild pitch and scored on Joey Gathright's one-out single.
Gathright moved to third on a single by Tony Pena Jr. With runners on the corners, left-hander Scott Downs was brought in to face DeJesus, who grounded into an inning-ending double play.
Notes: The last Blue Jay to throw a no-hitter was Dave Stieb on Sept. 2, 1990, against Cleveland. ... Marcum, who was born in Kansas City and went to Excelsior Springs High School, about 25 miles north of Kauffman Stadium, was a 2003 third-round pick of Toronto out of Missouri State. He had more than 200 family members and friends at the game. ... RHP Josh Towers, who was 0-3 with a 7.47 ERA in his past three starts, is going to the Blue Jays bullpen with RHP A.J. Burnett coming off the disabled list Sunday. ... Royals RF Mark Teahen hit into double plays in his first two at-bats, while Blue Jays 2B Aaron Hill ended the sixth by grounding into a double play. The two share the American League-lead by grounding into 19 double plays.
Copyright 2017 The Associated Press. All rights reserved. This material may not be published, broadcast, rewritten or redistributed. We strive to uphold our values for every story published.